Endothelial Dysfunctions and Vascular Disease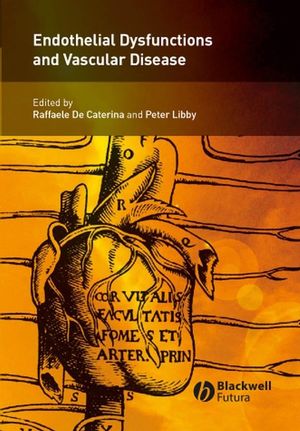 Endothelial Dysfunctions and Vascular Disease
ISBN: 978-0-470-99409-2
Apr 2008
432 pages
Description
Bridging the gap between the laboratory and the bedside, this timely volume illuminates the connection between endothelial dysfunction and vascular disease. This comprehensive survey of atherosclerotic disease begins with biology – incorporating the latest breakthroughs in the field – then elucidates risk factors and diagnostic tools and markers. A major section on endothelium-directed prevention and therapy shows you how to apply cutting-edge research to clinical care.

Under the careful editorial guidance of Drs. De Caterina and Libby, the highly-regarded contributors address:
- endothelial activation and the initiation of atherosclerosis
- mechanisms of plaque progression and complications
- the role of LDL in the origin and progression of atherosclerosis
- advanced glycation endproducts and the accelerated atherosclerosis in diabetes
- oxidative stress and vascular disease
- soluble adhesion molecules as markers of vascular disease
- hormone-replacement therapy and cardiovascular risk
- anti-oxidants and endothelial protection
and more.

The first book dedicated to the central role of endothelial dysfunction in vascular disease, this concise volume gathers all the latest information on the subject into one convenient and cohesive text. Make sure your patients are benefiting from current knowledge by keeping a copy of Enothelial Dysfunctions in Vascular Disease close at hand for frequent consultation.


Introduction
Every book has a history, this one not excepted, having emerged from intersections in professional lives of the Editors. This book bears the fruits of a collaboration between the "pupil" (RDC) and the "mentor" (PL). During an extended sabbatical of the pupil in Boston in 1994, we probed together the concept that endothelial dysfunction served as a common denominator of vascular disease, with the balance between inflammation and its inhibition as a fulcrum of the regulation of the behavior of endothelial cells. As practicing cardiologists in our clinical lives, we sought to link to endothelial function the mechanisms of action of risk factors and of pharmacologic agents used to treat and prevent vascular disease. The pupil therefore authored a few reviews on the mechanism of action of risk factors and included them in a small book, published in Italian, for which the mentor wrote a preface. The book was greeted with favor from the Italian cardiological community, and provided the nidus for the present, more ambitious endeavor, which includes updated reviews on the pathogenesis of vascular disease and on the most novel aspects of vascular biology. This enterprise was enabled by the contributions of many of our former or present collaborators and colleagues, without whose enthusiasm and engagement this work could never have seen light. We largely underestimated the devotion necessary on our own side at the beginning, but it ultimately yielded a product that we feel achieves our original goals. We are aware that we confront a continuously evolving topic, where frequent updates would be desirable - if not necessary. Yet, we believe in the value of books - such as the current one - that attempt to organize in a snapshot of time, the vast amount of literature available in a coherent and comprehensive scheme. We are aware of existing gaps, of emerging material not paid its due, and of the rapid evolution of some of the concepts highlighted within. The links between the laboratory and the clinic have never afforded more opportunity for new understanding and advances in diagnosis and treatment than today We hope that our colleagues, vascular biologists cardiologists, internists, and other physicians alike will find this compendium a useful guide to this most exciting time in vascular biology and medicine





Raffaele De Caterina and Peter Libby
Part I The basis of endothelial involvement in vascular diseases
.
1 Endothelial functions and dysfunctions.
Raffaele De Caterina, Marika Massaro, & Peter Libby.
2 Endothelial activation and the initiation of atherosclerosis.
Raffaele De Caterina, Antonella Zampolli, Guido Lazzerini, & Peter Libby.
3 Mechanisms of plaque progression and complications.
Raffaele De Caterina, Antonella Zampolli, Serena Del Turco, & Peter Libby.
4 Angiogenesis in cardiovascular disease.
Karen S. Moulton.
Part II The endothelium and cardiovascular risk factors.
5 VLDL and atherosclerosis.
Jan Nilsson, Mikko P.S. Ares, & Wolfgang Dichtl.
6 High-density lipoprotein and atheroprotection.
Brian Krause, Reynold Homan, & Roger Newton.
7 Advanced glycation endproducts and the accelerated atherosclerosis in diabetes.
Giuseppina Basta, Ann Marie Schmidt, & Raffaele De Caterina.
8 Homocysteine and endothelial dysfunction.
Rosalinda Madonna & Raffaele De Caterina.
9 Lipoprotein(a) and the artery wall.
Angelo M. Scanu & Marilena Formato.
10 Oxidative stress and vascular disease.
Dominik Behrendt & Peter Ganz.
11 Infections and vascular disease.
Amir Kol & Peter Libby.
Part III Diagnostic tools and markers of endothelial functions.
12 Endothelial vasodilatory dysfunction: basic concepts and practical implementation.
Scott Kinlay & Peter Ganz.
13 Endothelial vasodilatory dysfunction and risk factors in adults.
Mark R. Adams & David S. Celermajer.
14 Endothelial vasodilatory dysfunction in early life.
Julian P.J. Halcox & John E. Deanfield.
15 Endothelial vasodilatory dysfunction in hypertension.
Umberto Campia & Julio A. Panza.
16 Vascular function and diabetes mellitus.
Mark A. Creager & Joshua A. Beckman.
17 Dyslipidemia and endothelial dysfunction: pathophysiology and therapy.
Todd J. Anderson & Francois Charbonneau.
18 Soluble adhesion molecules as in vivo biohumoral markers of vascular cell activation.
Jacopo Gianetti & Raffaele De Caterina.
Part IV Endothelium-directed prevention and therapy.
19 Hormone replacement therapy and cardiovascular disease.
Tommaso Simoncini.
20 Anti-atherogenic effects of omega-3 fatty acids.
Antonella Zampolli, Erling Falk, & Raffaele De Caterina.
21 Treatment of endothelial dysfunction and atherosclerosis by cholesterol lowering.
Masanori Aikawa & Peter Libby.
22 Antioxidants and endothelial protection.
Domenico Praticò.
23 Angiotensin-converting enzyme inhibitors and angiotensin II type 1 receptor blockers to reverse endothelial dysfunction.
G.B. John Mancini & Sammy Y. Chan.
24 PPARs in atherosclerosis.
Ouliana Ziouzenkova, Nikolaus Marx, Peter Libby & Jorge Plutzky.
25 Stem cells in atherosclerosis and atherosclerosis-related vascular disorders.
Yong-Jian Geng & Rosalinda Madonna.
26 Endothelium-targeted gene and cell-based therapy for cardiovascular disease.
Luis G.Melo, Alok S. Pachori, Deling Kong, Massimiliano Gnecchi, & Victor J. Dzau.
Index


focuses on this cutting edge clinically relevant knowledge

Edited by two brilliant cardiovascular clinicians

embraces the basis of endothelial involvement in vascular disease and continues to elucidate risk factors, diagnostic tools and markers

major section on prevention and therapy

represents the bridge from the laboratory to bedside