Endothelium, Nitric Oxide and Atherosclerosis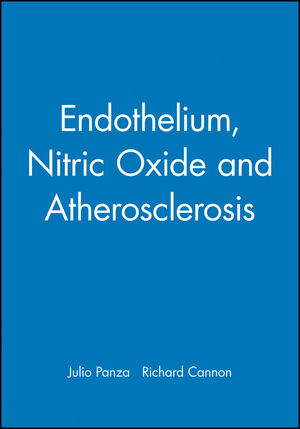 Endothelium, Nitric Oxide and Atherosclerosis
ISBN: 978-0-879-93436-1 June 1999 Wiley-Blackwell 320 Pages
Download Product Flyer
Download Product Flyer
Download Product Flyer is to download PDF in new tab. This is a dummy description. Download Product Flyer is to download PDF in new tab. This is a dummy description. Download Product Flyer is to download PDF in new tab. This is a dummy description. Download Product Flyer is to download PDF in new tab. This is a dummy description.
Description
The opening chapter of this book, by scientist Dr. Robert Furchgott, details the discovery of endothelium's role in the vasodilator effect of acetycholine in 1978. Its subsequent identification as nitric oxide has been critical to cardiovascular medicine in understanding the regulation of vascular homeostasis. This simple observation won Dr. Furchgott a Nobel Prize in 1998.
Spanning from these initial observations to recent clinical investigations, this work offers an invaluable historical reference and clinical explanation about the intracellular mechanisms that regulate and stimulate endothelial nitric oxide synthase (eNOS). The basic mechanisms leading to endothelial dysfunction in cardiovascular disease complement information about the biological role and regulation of endothelial nitric oxide. Clinical studies of impaired endothelial function in patients with different cardiovascular conditions also reveal important and effective therapeutic strategies.
Written for both established physicians and scientists investigating the basic mechanisms and treatment of cardiovascular disease, as well as medical students who want to initiate themselves in the study of endothelial regulation of vascular physiology, many will find this comprehensive review a stimulus for new research.
Table of contents
Preface.
Julio A. Panza and Richard O. Cannon.
Contributors.
Part I: The Endothelium and the Biology of Nitric Oxide.
Chapter 1: Discovery of Endothelium-Derived Relaxing Factor and Its Identification as Nitric Oxide.
Robert F. Furchgott.
Chapter 2: Discovery of Biological Roles of Nitric Oxide in the Cardiovascular System.
Salvador Moncada and E. Annie Higgs.
Chapter 3: Molecular Mechanisms of Intracellular Endothelium Nitric Oxide Regulation.
William E. Downey and Thomas Michel.
Chapter 4: Cardiovascular Effects of Nitric Oxide: Lessons Learned from Endothelial Nitric Oxide Synthase Knockout Mice.
Paul L. Huang, Robert Gyurko, and Lin Zhang.
Chapter 5: Nitric Oxide Signaling Mediating Relaxation of Vascular Smooth Muscle.
Richard A. Cohen.
Chapter 6: Hemoglobin-Bound Nitric Oxide Participates in the Mammalian Respiratory Cycle.
Timothy J. McMahon and Jonathan S. Stamler.
Chapter 7: Hormonal Regulation of Endothelium-Derived Factors.
Virginia M. Miller.
.
Part II: Basic Mechanisms of Endothelial Dysfunction.
Chapter 8: Endothelial Dysfunction and Vascular Disease.
Paul M. Vanhoutte.
Chapter 9: Endothelium-Derived Constricting Factors and Endothelial Dysfunction.
Frank T. Ruschitzka, Georg Noll, and Thomas F. Lüscher.
Chapter 10: Endothelial Nitric Oxide and Vascular Inflammation.
James K. Liao.
Chapter 11: Vascular Oxidant Stress and Nitric Oxide Bioactivity.
A. Maziar Zafari, David G. Harrison, and Kathy K. Griendling.
.
Part III: Clinical Studies of Endothelial Function and Dysfunction.
Chapter 12: Endothelium, Nitric Oxide, and Hypertension.
Julio A. Panza.
Chapter 13: Nitric Oxide Availability in Hypercholesterolemia.
Robert A. Vogel.
Chapter 14: Nitric Oxide Activity in the Human Coronary Circulation.
Arshed A. Quyyumi.
Chapter 15: Endothelial Vasodilator Dysfunction in Chronic Heart Failure.
Helmut Drexler and Burkhard Hornig.
Chapter 16: In Vitro Studies of the Human Microcirculation in Cardiovascular Disorders.
Anthony M. Heagerty.
.
Part IV: Therapeutic Strategies to Improve Endothelial Dysfunction.
Chapter 17: Endothelium as a Target of the Risk Factors in Cardiovascular Disease.
Scott Kinlay, Andrew P. Selwyn, and Peter Ganz.
Chapter 18: Oxidant Stress and Endothelial Function in Patients with Risk Factors for Atherosclerosis.
Mark A. Creager.
Chapter 19: Endothelium-Derived Nitric Oxide: An Antiatherogenic Molecule.
Shanthi Adimoolam and John P. Cooke.
Chapter 20: Hormone Therapy and Nitric Oxide Bioactivity in Postmenopausal Women.
Richard O. Cannon III.
Chapter 21: Clinical Trials Using Angiotensin-Converting Enzyme Inhibition to Alter Endothelial Dysfunction in Coronary Patients.
G. B. John Mancini.
Chapter 22: Nitrate Therapy in Cardiovascular Disease.
Jonathan Abrams.
Index