Endovascular Therapy for Atherosclerotic Renal Artery Stenosis: Present and Future, Volume 2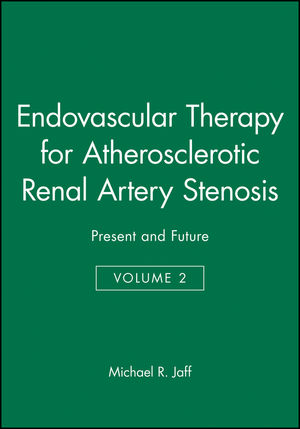 Endovascular Therapy for Atherosclerotic Renal Artery Stenosis: Present and Future, Volume 2
ISBN: 978-0-879-93470-5 December 2001 Wiley-Blackwell 144 Pages
Description
Atherosclerotic renal artery stenosis is now recognized as a common cause of accelerated hypertension and deterioration in renal function, and has become a widely discussed and debated topic in modern cardiovascular medicine. There are multiple reasons for this, including an aging population, improved imaging methods, novel safe and effective methods of revascularization, and improvement in antiplatelet therapy and access site complications after percutaneous procedures.

This monograph presents state of the art contributions in the areas of diagnosis and surgical, medical, and endovascular intervention from leading experts leaders in the field of atherosclerotic renal artery stenosis. It discusses the incidence and prevalence, natural history, diagnosis, and optimal methods of revascularization, including renal intervention for pulmonary edema, and ultimately, whether or not revascularization has a positive impact on renal preservation.

With contributions from internationally recognized authorities in this field, this book contains comprehensive analysis of current data and experience in this rapidly evolving field. Vascular and cardiovascular surgeons, interventionalists (cardiologists, radiologists), nephrologists, and internists will appreciate the succinct, yet comprehensive information contained within.
Introduction.
Michael R. Jaff, DO.
Chapter 1. Atherosclerotic Renal Artery Stenosis: Incidence and Clinical Manifestation.
Jeffrey W. Olin, DO.
Chapter 2. Atherosclerotic Renal Artery Stenosis: Methods of Diagnosis.
Michael R. Jaff, DO.
Chapter 3. The Natural History of Atherosclerotic Renal Artery Stenosis: Is this Truly a Progressive Disorder?.
D. Eugene Strandness, MD.
Chapter 4. Surgical Revascularization of Atherosclerotic Renal Artery Stenosis: Results and Limitations.
Kimberly Hansen, MD.
Chapter 5. The Techniques of Performing Endovascular Renal Artery Stenting.
Kenneth Rosenfield, MD.
Chapter 6. What Are the Technical and Clinical Results of Renal Artery Stenting?.
Mark Bates, MD.
Chapter 7. Renal Artery Stenting as Treatment for Unstable Angina Pectoris and Recurrent "Flash" Pulmonary Edema.
Christopher J. White, MD and Stephen R. Ramee, MD.
Chapter 8. Renal Artery Stenting Versus Surgery: Which is the Optimal Therapy for Atherosclerotic Renal Artery Stenosis in the New Millennium?.
Richard P. Cambria, MD.
Chapter 9. Can Renal Artery Stenting Preserve Renal Function? An Analysis of the Present Data, and Issues for Futura Investigation.
Stephen C. Textor, MD.
Chapter 10. What is the Long-Term Impact of Renal Artery Stenting on Hypertension and Renal Function?.
Gerald Dorros, MD and Michael R. Jaff, DO