Energy and the Environment, 2nd Edition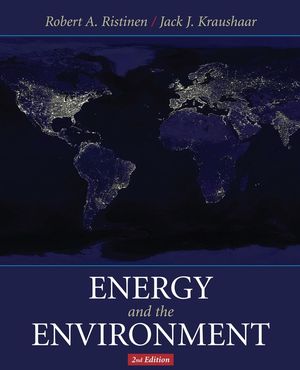 Energy and the Environment, 2nd Edition
ISBN: 978-0-471-73989-0
Dec 2005
384 pages
Product not available for purchase
Description
Ristinen and Kraushaar's Energy and the Environment 2e is suitable for a one-semester, introductory course dealing with the societal challenges of the availability and cost of energy and the effects of energy use on our environment. It contains up-to-date information on the essential subjects in this field as well as current applications and problems. It is intended for students with little or no background in science or mathematics.
Chapter 1. Energy Fundamentals, Energy Use in an Industrial Society.
Chapter 2. The Fossil Fuels.
Chapter 3. Heat Engines.
Chapter 4. Renewable Energy Sources I: Solar Energy.
Chapter 5. Renewable Energy Sources II: Alternatives.
Chapter 6. The Promise and Problems of Nuclear Energy.
Chapter 7. Energy Conservation.
Chapter 8. Transportation.
Chapter 9. Air Pollution.
Chapter 10. Global Effects.
Epilogue: Looking Ahead.
Appendix A: Linear Plots, Semilogarithmic Plots, and Exponential Growth.
Appendix B: Fahrenheit, Celsius, and Kelvin Temperature Scales.
Answers to Selected End-of-Chapter Problems.
Index.
Updated energy use and statistics
On-line Instructor's Manual with resources to help instructors with lectures and assignments
Most current book on the market
Written for liberal arts and general interest students
Good balance of basic science and current topics