Engagement Marketing: How Small Business Wins in a Socially Connected World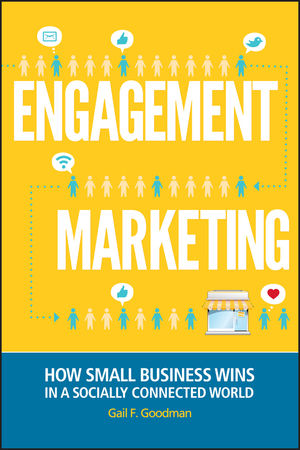 Engagement Marketing: How Small Business Wins in a Socially Connected World
ISBN: 978-1-118-10102-5 May 2012 224 Pages
Description
A definitive guide to growing your small business through "Engagement Marketing"
As a small business owner, you've always relied on word-of-mouth referrals to grow your business. Thanks to social media—and its nimble partner, mobile technology—it's now easier than ever to turn customers and clients into engaged fans who spread the word about your business across a variety of online platforms. And that's what Engagement Marketing is all about. Written for anyone who owns or manages a small business or non-profit, this book is filled with practical, hands-on advice based on the author's experience of working with thousands of small businesses for over a decade.
You'll learn how to attract new prospects—as well as how to increase repeat sales—using your existing customers and social networks.
Learn how to create customer experiences that increase positive customer reviews and endorsements
Get practical advice on how to entice people to join your social networks and run engagement campaigns that increase visibility—and endorsements—for your business
Understand why engagement is so important—and how you can use it to turn passionate fans in your social networks into tomorrow's new business
Author Gail Goodman is CEO of Constant Contact, America's leading email and social media marketing company for small businesses
Engagement Marketing will help you make a bigger name for your company, build your network, and reach your goals.
Foreword xiii
Anita Campbell
Introduction xvii
PART I REV UP YOUR ENGAGEMENT MARKETING ENGINE 1
Chapter 1 The Engagement Marketing Cycle 3
Learn how word of mouth, amplified by social media, helps drive repeat business and new customers.
Chapter 2 Deliver a WOW! Experience 17
To begin the Engagement Marketing Cycle—and get your share of positive raves and repeat business—you first have to WOW! customers with exceptional experiences. We'll show you how.
Chapter 3 Entice to Stay in Touch 31
Use these easy-to-implement tips to encourage people to stay in touch, because out-of-sight means out-of-mind—and out-of-mind means no business.
Chapter 4 Engage People 49
We'll explain the five types of compelling content that drive online (and offline) engagement and bring people back to your business.
Chapter 5 How Engagement Marketing Drives New Prospects to Your Door 73
Engaging your customers creates social visibility that results in referrals and new prospects, positive endorsements, and search engine relevance.
PART II GET MORE BUSINESS WITH ENGAGEMENT MARKETING 83
Chapter 6 How Social Visibility Happens 85
Understand which customer responses and actions create social visibility on Facebook, Twitter, LinkedIn, and Google+ and how to ask your followers to share.
Chapter 7 Engagement Marketing in Action: Real-World Examples 107
Read case studies and examples from two small businesses and a nonprofi t that use Engagement Marketing to gain exposure in their communities and attract customers and donors.
Chapter 8 Engagement Marketing Tips and Tricks 133
Learn fi ve easy-to-implement social word-of-mouth methods that take only a few minutes each day but deliver real impact in the form of increased engagement and visibility, leading to increased business.
Chapter 9 Overcoming Common Obstacles 145
Find time in today's crazy busy world to implement your Engagement Marketing Cycle by using the tools and tactics you already have.
Chapter 10 Resources 161
Tools, tips, and tricks to help you take your Engagement Marketing to the next level.
Glossary 179
About the Author 183
Acknowledgments 185
Index 187