Engendering Democracy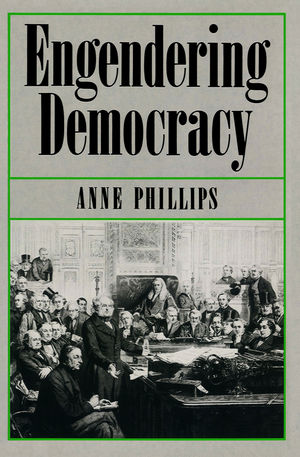 Engendering Democracy
ISBN: 978-0-745-66817-8
Apr 2013, Polity
192 pages
Description
Democracy is the central political issue of our age, yet debates over its nature and goals rarely engage with feminist concerns. Now that women have the right to vote, they are thought to present no special problems of their own. But despite the seemingly gender-neutral categories of individual or citizen, democratic theory and practice continues to privilege the male.

This book reconsiders dominant strands in democratic thinking - focusing on liberal democracy, participatory democracy, and twentieth century versions of civic republicanism - and approaches these from a feminist perspective. Anne Phillips explores the under-representation of women in politics, the crucial relationship between public and private spheres, and the lessons of the contemporary women's movement as an experience in participatory democracy.
1. Feminism and Democracy.
2. The Classic Debates.
3. The Representation of Women.
4. Public Spaces, Private Lives.
5. Paradoxes of Participation.
6. So What's Wrong with Liberal Democracy?.
Bibliography.
CO-WINNER OF THE AMERICAN POLITICAL SCIENCE ASSOCIATION'S 1992 VICTORIA SCHUCK AWARD
'This book is essential reading for political scientists wanting to see how feminist theory is transforming their discipline and a major new contribution to progressive thought on the topical issue of 'democracy'. Written with detachment and dry wit, Engendering Democracy takes feminist questions to the heart of political theory.' Michele Barrett, Department of Social Sciences and Humanities, City University
'She is a rare academic writer who can tackle ideologies in everyday language: the book is a joy to read.' New Statesman and Society
'An intelligent and undidactic discussion of a wide field of feminist and democratic theory which will be fruitfully inconvenient for both the conservative and the revolutionary.' Political Studies
'Engendering Democracy deserves to be read widely.' Radical Philosophy
'A very readable account of how feminism challenges democratic theories.' Women in Philosophy Newsletter
'A highly readable, concisely argued treatment of the relationship between feminist theory and democracy.' Queens Law Journal
'An invaluable collection of the writings of one of Britain's best feminist political theorists and a fascinating record of the development of the key political concerns of the past decade.' Times Higher Education Supplement
* This is the first book to bring together recent trends in feminist political theory and apply them directly to the problems of democracy.
* Anne Phillips offers an original theory, which is also controversial.
* An extremely important book by a leading feminist political theorist.