Engineered Carbohydrate-Based Materials for Biomedical Applications: Polymers, Surfaces, Dendrimers, Nanoparticles, and Hydrogels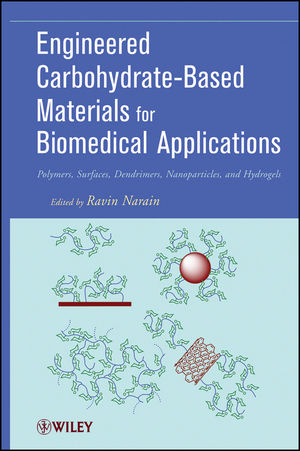 Engineered Carbohydrate-Based Materials for Biomedical Applications: Polymers, Surfaces, Dendrimers, Nanoparticles, and Hydrogels
ISBN: 978-0-470-94434-9
Dec 2010
368 pages
Description
This book addresses the need for a comprehensive book on the design, synthesis, and characterization of synthetic carbohydrate-based polymeric materials along with their biological applications. The first two chapters cover the synthesis and self-assembly of glycopolymers and different techniques for creating these synthetic polymers. Subsequent chapters account for the preparation of block copolymers, branched glycopolymers, glycosurfaces, glycodendrimers, cationic glycopolymers, bioconjugates, glyconanoparticles and hydrogels. While these chapters comprehensively review the synthetic and characterization methods of those carbohydrate-based materials, their biological applications are discussed in detail.
PREFACE.
CONTRIBUTORS.
1 SYNTHESIS OF GLYCOPOLYMERS (Samuel Pearson, Gaojian Chen, and Martina H. Stenzel).
2 BLOCK GLYCOPOLYMERS AND THEIR SELF-ASSEMBLY PROPERTIES (Qian Yang).
3 CATIONIC GLYCOPOLYMERS (Marya Ahmed and Ravin Narain).
4 GLYCOPOLYMER BIOCONJUGATES (Marya Ahmed and Ravin Narain).
5 GLYCOPOLYMER-FUNCTIONALIZED CARBON NANOTUBES (Marya Ahmed and Ravin Narain).
6 GLYCONANOPARTICLES: NEW NANOMATERIALS FOR BIOLOGICAL APPLICATIONS (Isabel Garcıa, Juan Gallo, Marco Marradi, and Soledad Penades).
7 GLYCODENDRIMERS AND THEIR BIOLOGICAL APPLICATIONS (Elizabeth R. Gillies).
8 GLYCOSURFACES (Anca Mateescu and Maria Vamvakaki).
9 CARBOHYDRATE-DERIVED HYDROGELS AND MICROGELS (Mitsuhiro Ebara).
10 MODIFIED NATURAL POLYSACCHARIDES AS NANOPARTICULATE DRUG DELIVERY DEVICES (Archana Bhaw-Luximon).
INDEX.