Engineering, Medicine and Science at the Nano-Scale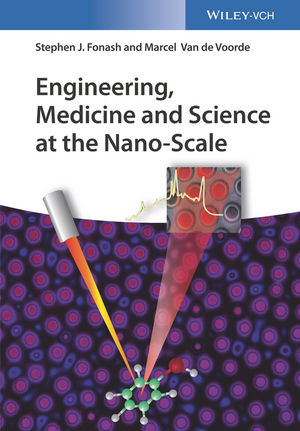 Engineering, Medicine and Science at the Nano-Scale
ISBN: 978-3-527-69291-0
Sep 2018
500 pages
Product not available for purchase
Description
The result of lectures given for a graduate and advanced undergraduate course at Penn State University, students at universities the world over will benefit from the authors' concise treatment.
The textbook begins by addressing, in general terms, the phenomena and peculiarities that occur at the nanoscale. In the following four parts, readers are introduced in detail to nanoscale physics, chemistry, materials science, and biology, followed by two parts on synthesis and fabrication as well as characterization at the nanoscale. A variety of exemplary applications taken from a wide range of sectors are also presented and discussed. Concerns for safety, environmental impact, workforce development, economic wellbeing, and societal change issues arising from nanotechnology are woven throughout the book and additionally form the focus of the last two chapters.
With special didactic elements such as learning objectives at the beginning of chapters, summaries at the end of chapters, and "Further Reading" sections, this is the definitive textbook on nanotechnology.
I. WHAT IS SO SPECIAL ABOUT THE NANOSCALE?
Is It Hype?
Should We Wait for the Picoscale?
II. WORKING IN THE NANOWORLD/
PHYSICS AND THE NANOSCALE
The Role of Quantum Concepts
The Role of Physical Optics
Thermodynamics at the Nanoscale
III. WORKING IN THE NANOWORLD/
CHEMISTRY AND THE NANOSCALE
Quantum Chemistry
Bonding at the Nanoscale
Surface Energy
Hydrophobicity, Hydrophilicity
Safety Issues
IV. WORKING IN THE NANOWORLD/
MATERIALS SCIENCE AND THE NANOSCALE
Thermodynamics -
Phase Diagrams
Crystalline, Nanocrystalline and Amorphous Materials
Impact of Nanoscale on Material Properties
Inorganic Nanoparticles and Films
Organic Nanoparticles and Films
Block Co-Polymers
Carbon Forms: Bucky Balls, Nanotubes, Graphene
Other Nanotube Materials
Graphene-Like Materials
Nanostructured Composites
Magnetic Phenomena
Photonic Crystals
Plasmonic Materials
Light Absorbers
Intelligent Coatings
V. WORKING IN THE NANOWORLD/
BIOLOGY AND THE NANOSCALE
Basic Assembly/Functioning at the Level of Living Things
Scale Matching
Function Matching
Safety Issues
VI. WORKING IN THE NANOWORLD/
SYNTHESIS AND FABRICATION
Introduction
Synthesis
Particle and Surface Functionalization
Top-Down Technologies: Lithography, Chemical, Particle and Photon Beam Additive and Subtractive Techniques
Bottom-Up Technologies: Block Co-Polymers, Sol Gels, Self-Assembly, Virus Assembly, Bacterium Assembly
VII. WORKING IN THE NANOWORLD/
CHARACTERIZATION AT THE NANOSCALE
Introduction
Scanning Probe Microscopy
Photon and Particle Microscopy
X-Ray and Electron Diffraction
Photon and Particle Chemical Characterization Techniques
Synchrotron Radiation and Neutron Techniques
VIII. APPLICATIONS AT THE NANOSCALE
Introduction: the Promise Is Coming to Fruition
Nanotechnology in Medicine and Biology
Nanotechnology in Agriculture and Food
Nanotechnology and the Environment
Nanotechnology in Electronics, Spintronics, Opto-Electronics, and Photonics
Nanotechnology in Sensing
Nanotechnology in Transport Technology
Nanotechnology in Energy Production and Storage
Nanotechnology and Informatics
IX. THE INDUSTRIAL AND ECONOMIC CHALLENGES OF NANOTECHNOLOGY
X. INNOVATIVE AND RESPONSIBLE GOVERNANCE OF NANOTECHNOLOGY: SOCIAL, ETHICAL, ENVIRONMENTAL, AND HEALTH IMPLICATION
XI. FUTURE VISION AND PERSPECTIVES