Engineering Documentation Control / Configuration Management Standards Manual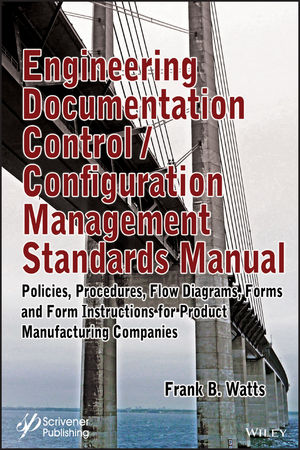 Engineering Documentation Control / Configuration Management Standards Manual
ISBN: 978-1-119-47903-1
Apr 2018
210 pages
Product not available for purchase
Description
Engineering Documentation Control — sometimes called Configuration Management or Product Lifecycle Management — is a key ingredient to world-class product manufacturing.
In order to achieve best-in-class CM it is necessary to document what you do, do what you document and, preferably, continuously improve what you do. With this manual, companies can bridge the gap between engineering and manufacturing. While there are many commercial, military and agency standards, this manual is directed at how to achieve best-in-class processes which are "make sense," fast, accurate, efficient, effective, measured and well understood.
With this manual, you have the best of the best management practices for the configuration management processes. They also go a long way toward satisfying Total Quality Management, FDA, GMP, Lean CM and ISO/QS/AS 9XXX process documentation requirements. The one requirement common to all those standards is to document the processes and to do what you document.