Engineering Economics Analysis for Evaluation of Alternatives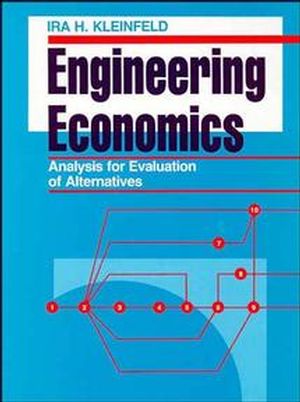 Engineering Economics Analysis for Evaluation of Alternatives
ISBN: 978-0-471-28464-2 December 1992 448 Pages
Description
The engineer's guide to economical decision-making

Engineering economics is an important subject for both aspiring and practicing engineers. As global competition increases, engineers are increasingly asked to analyze and monitor their processes and products, not only to ascertain their level of quality but their cost-effectiveness as well. It is imperative to know the scientific and engineering principles of design work and decision-making in a world where technology is constantly evolving. Kleinfeld's Engineering Economics: Analysis for Evaluation of Alternatives offers students, professors, and professionals guidance for making smart, economical decisions when it comes to design and manufacturing.
Table of contents
Overview of Engineering Economics.

Time Value Concepts.

Yardsticks for Evaluation of Alternatives.

Comparison of Alternatives.

Computational Considerations.

Break-Even Analysis.

Depreciation.

The Impact of Taxes on Investment Decisions.

Replacement Analysis.

The Impact of Inflation.

Measuring Costs in Industry.

Aggregate Investment Decision-Making--Capital Budgeting.

Risk in Engineering Economic Analysis.

Analysis of Public Projects.

Project Scheduling and Management: Critical Path Methods.

Conclusion.

Appendices.

Index.