Engineering Mechanics: Statics, Enhanced eText, 9th Edition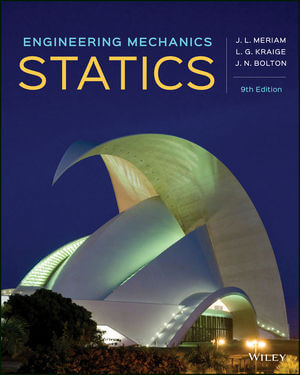 Engineering Mechanics: Statics, Enhanced eText, 9th Edition
ISBN: 978-1-119-39262-0
Feb 2018
Description
Engineering Mechanics: Statics provides students with a solid foundation of mechanics principles. This product helps students develop their problem–solving skills with an extensive variety of engaging problems related to engineering design. To help students build necessary visualization and problem–solving skills, a strong emphasis is placed on drawing free–body diagrams, the most important skill needed to solve mechanics problems.


The Enhanced E-Text is also available bundled with an abridged print companion and can be ordered by contacting customer service here:
ISBN: 9781119456278
Price: $97.95
Canadian Price: $111.50



1. INTRODUCTION TO STATICS
2. FORCE SYSTEMS
3. EQUILIBRIUM
4. STRUCTURES
5. DISTRIBUTED FORCES
6. FRICTION
7. VIRTUAL WORK
A. AREA MOMENTS OF INERTIA
B. MASS MOMENTS OF INERTIA
C. SELECTED TOPICS OF MATHEMATICS
D. USEFUL TABLES
Key Concepts Areas: Key concept areas within the theory presentation are specially marked and highlighted.
Chapter Reviews: Chapter reviews are highlighted and feature itemized summaries.
Sample Problems: All sample problems are printed on specially designed pages for quick identification.
Photographs: Photographs in each section provide an additional connection to actual situations in which statics has played a major role.
Video Solutions: There are step-by-step video solutions for over 200 problems.
Problems: A notable feature of the course is the wealth of interesting and important problems which apply to engineering design. Whether directly identified as such or not, virtually all of the problems in the course deal with principles and procedures inherent in the design and analysis of engineering structures and mechanical systems.
Sample Problems: 89 sample problems appear on specially designed pages by themselves. The solutions to typical statics problems are presented in detail. In addition, explanatory and cautionary notes (Helpful Hints) are number-keyed to the main presentation.
Homework Exercises: There are 898 homework exercises. The problem sets are divided into Introductory Problems and Representative Problems. The first section consists of simple, uncomplicated problems designed to help students gain confidence with the new topic, while most of the problems in the second section are of average difficulty and length. The problems are generally arranged in order of increasing difficulty. More difficult exercises appear near the end of the Representative Problems and are marked with the triangular symbol.
Computer-Oriented Problems: Marked with an asterisk, these problems appear throughout the problems exercises and also in a special section at the conclusion of the Review Problems at the end of each section. The answers to all problems have been provided in a special section near the end of the textbook. In recognition of the need for emphasis on SI units, there are approximately two problems in SI units for everyone in U.S. customary units. This apportionment between the two sets of units permits anywhere from a 50-50 emphasis to a 100-percent SI treatment.
Illustrations: In order to bring the greatest possible degree of realism and clarity to the illustrations used in the course, all illustrations are in full color. It is important to note that color is used consistently for the identification of certain quantities:

Red for forces and moments
Green for velocity and acceleration arrows
Orange dashes for selected trajectories of moving points.
Subdued colors are used for those parts of an illustration which are not central to the problem at hand.
Whenever possible, mechanisms or objects which commonly have a certain color are portrayed in that color.