England in the 1670s: This Masquerading Age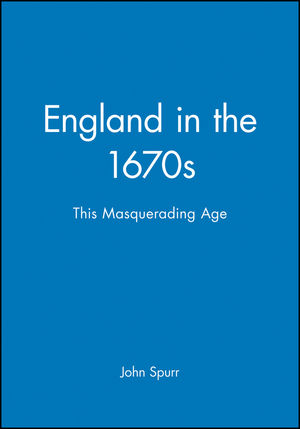 England in the 1670s: This Masquerading Age
ISBN: 978-0-631-22253-8
Nov 2000, Wiley-Blackwell
372 pages
Description
England in the 1670s provides a welcome introduction to the politics, war and religion of this tumultuous period in English history and paints a revealing and vibrant portrait of a society grappling with change.
List of Illustrations.
Preface and Acknowledgements.
List of Abbreviations.
Note to the Reader.
Prologue: Masquerade and Interest.
1. 1670-2: So Bewitched a Time.
2. 1672-4: Affairs Begin to Alter.
3. 1674-6: Nothing is to be Trusted to Good Nature.
4. Great Souls: Heroism, Wit and Masquerade.
5. England's Interest and Improvement.
6. Surveying and Communication.
7. Tyrannic Love: Sex, Marriage and Politics.
8. Politics, Piety and Toleration.
9. 1677-8: Mutinous Assemblies and Pickpocket Wars.
10. 1679-81: A Wasps' Nest.
Epilogue: Remnants of the Old.
Notes.
Index.
"This latest volume of the "Blackwell History of Early Modern England" series is a most welcome addition ... A lively, engaging book that illuminates the wide-ranging preoccupations of the reign."
Choice
<!--end-->
"The book provides a very entertaining and persuasive illustration of the spirit of a particular age. It also explains, better than ever before, why the various publics of the time thought and reacted to events as they did, and so makes the political history of a notoriously confusing and opaque decade much easier to understand." English Historical Review

"This work convincingly disputes the tendency to allow the 1670s to be overshadowed by the Popish Plot and the Exclusion crisis ... Spurr carefully places events in their historical context and avoids anachronism by emphasising the contemporary perception of events ... Spurr is judicious in his treatment of literature and consequently makes a particularly strong case for its reflection of period concerns." Ecclesiastical History

"John Spurr has written a wonderfully intriguing acount of the 1670s ... One could give the book to students in the hope that they learnt how, as well as what, to write." Albion

"The broad scope of themes explored and the extensive use of contempary texts to illustrate his argument demonstarte the author's impressive grasp of the literature of the period." Warren Johnston, University of Saskatchewan - Canadian Journal of History
Challenges previous assumptions about the 1670s.

Based on and quotes a wide range of manuscripts, newsletters, correspondence, contemporary diaries, poems, plays and other documents and printed works.

Includes literary sources not only to enrich the coverage of the period, but for interdisciplinary approach to the period.