English Grammar: A Generative Perspective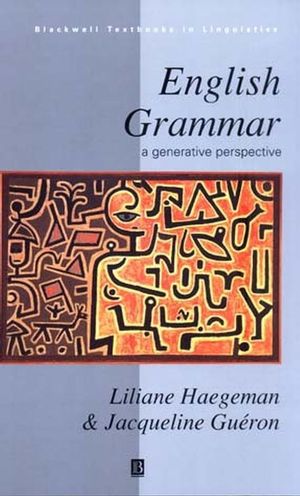 English Grammar: A Generative Perspective
ISBN: 978-0-631-18839-1 January 1999 Wiley-Blackwell 686 Pages
Description
This book is intended primarily for undergraduate students of English, though it will also be useful for undergraduates in linguistics focusing on English. It shows how a restricted set of principles can account for a wide range of the phenomena of English syntax.
While the main focus of the book is empirical, it introduces important theoretical concepts: theta theory, X-bar theory, case theory, locality, binding theory, economy, full interpretation, functional projections. In doing so it prepares the student for more advanced theoretical work. The authors integrate many recent insights into the nature of syntactic structure into their discussion. They present information in a gradual way: hypotheses developed in early chapters are reviewed and modified in subsequent ones. The authors also pay attention to the relation between structure and interpretation and to language variation, and particularly to register variation. They include a wide range of diverse exercises, giving the student an opportunity for creative individual work on English.
Table of contents
Acknowledgements.
Introduction.
1. The Structure of English Sentences.
2. Movement and Locality.
3. Developments in the Analysis of the Clause.
4. Aspects of the Syntax of Noun Phrases.
5. From Structure to Interpretation.
6. The New Comparative Syntax.
References.
Index.
Reviews
"English Grammar: A Generative Perspective is a very useful survey of the major syntactic structures of English, as well as an excellent and accessible introduction to the fundamental ideas and methods of generative grammar. I am especially impressed by the extensive sets of relevant, stimulating exercises, which will be of great pedagogical benefit." Howard Lasnik, University of Maryland
Features
* Offers an introduction to the study of English grammar from a generative perspective.
* Offers perhaps the definitive description of English in this theoretical framework.
* Emphasises the role of argumentation in syntax - building theory from data.