English Language Arts, Grade 6 Module 3: Understanding Perspectives, Teacher Set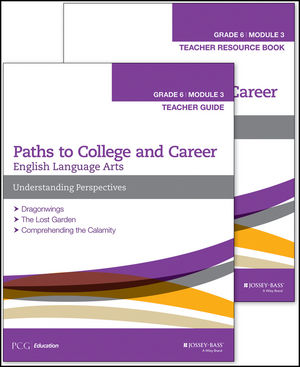 English Language Arts, Grade 6 Module 3: Understanding Perspectives, Teacher Set
ISBN: 978-1-119-10524-4
Nov 2015, Jossey-Bass
Product not available for purchase
Description
Paths to College and Career is a new, comprehensive English Language Arts curriculum for grades 6 to 12 built from the ground up over a three-year period to address the Common Core State Standards (CCSS) for English Language Arts and Literacy. It reflects a deep understanding of the standards and assessments, and is written with a focus on the shifts in instructional practice and student experiences the standards require. It includes daily lesson plans, guiding questions, recommended texts, scaffolding strategies, and other classroom resources.
Paths to College and Career provides teachers, schools, and districts with a concrete and practical ELA instructional program that engages students with compelling and complex texts. At each grade level, Paths to College and Career delivers a yearlong curriculum that develops all students' ability to
• read closely and engage in text-based discussions,
• build evidence-based claims and arguments,
• conduct research and write from sources, and
• expand their academic vocabulary.
Paths to College and Career's instructional resources address the needs of all learners, including students with disabilities, English language learners, and gifted and talented. The curriculum is flexible, user friendly, engaging, and purposefully built to prepare students for career, college, and life.

In Module 3 of Grade 6, student study how an author develops point of view and how an author's perspective, based on his or her culture, is evident in his or her writing. Students will read Lawrence Yep's Dragonwings, a high-interest novel about an eight-year-old boy from China who joins his father in San Francisco in the early 1900s. As they read the novel, students also will read excerpts of Lawrence Yep's biography The Lost Garden in order to determine how his culture and his experiences shaped his perspective. Students analyze how point of view and perspective is conveyed in excerpts of "Comprehending the Calamity," a primary source account written by Emma Burke about her experiences of the 1906 San Francisco earthquake and fires, and compare the point of view of Emma Burke of the immediate aftermath of the earthquake to the point of view of Moon Shadow in Dragonwings. Students finish the module by researching to gather factual information and eyewitness accounts about the 1906 San Francisco earthquake and fire in order to write their own newspaper articles containing multiple perspectives about how the earthquake and fires affected the people of San Francisco.