English Language Arts, Grade 7 Module 2A: Working with Evidence, Teacher Guide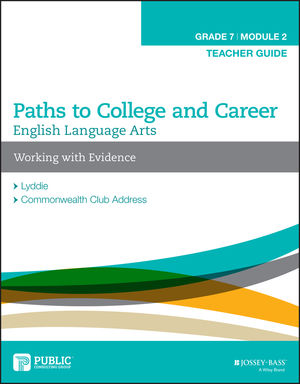 English Language Arts, Grade 7 Module 2A: Working with Evidence, Teacher Guide
ISBN: 978-1-119-22799-1
Mar 2017, Jossey-Bass
336 pages
Description
Paths to College and Career
Jossey-Bass and PCG Education are proud to bring the Paths to College and Career English Language Arts (ELA) curriculum and professional development resources for grades 6–12 to educators across the country. Originally developed for EngageNY and written with a focus on the shifts in instructional practice and student experiences the standards require, Paths to College and Career includes daily lesson plans, guiding questions, recommended texts, scaffolding strategies and other classroom resources.
Paths to College and Career is a concrete and practical ELA instructional program that engages students with compelling and complex texts. At each grade level, Paths to College and Career delivers a yearlong curriculum that develops all students' ability to read closely and engage in text-based discussions, build evidence-based claims and arguments, conduct research and write from sources, and expand their academic vocabulary. Paths to College and Career's instructional resources address the needs of all learners, including students with disabilities, English language learners, and gifted and talented students.
This enhanced curriculum provides teachers with freshly designed Teacher Guides that make the curriculum more accessible and flexible, a Teacher Resource Book for each module that includes all of the materials educators need to manage instruction, and Student Journals that give students learning tools for each module and a single place to organize and document their learning.
As the creators of the Paths ELA curriculum for grades 6–12, PCG Education provides a professional learning program that ensures the success of the curriculum. The program includes:
Nationally recognized professional development from an organization that has been immersed in the new standards since their inception.
Blended learning experiences for teachers and leaders that enrich and extend the learning.
A train-the-trainer program that builds capacity and provides resources and individual support for embedded leaders and coaches.
Paths offers schools and districts a unique approach to ensuring college and career readiness for all students, providing state-of-the-art curriculum and state-of-the-art implementation.
About PCG Education vii
What Is Paths to College and Career? ix
Curriculum Maps xix
Grade 7 Curriculum Map xxi
Unit-Level Assessments (ELA CCSS) xxv
ELA Curriculum: Grades 6–8 Curriculum Plan xxxvii
Module Overview 1
Unit 1 25
Unit Overview Building Background Knowledge 25
What Are Working Conditions, and How Do They Affect Workers?
Lesson 1 Introducing Module 7.2 47
Working Conditions—Then and Now
Lesson 2 Launching Lyddie 53
Lesson 3 Modeling Entry Task, Reading Notes, and Reading
Strategies for Lyddie 60
Lesson 4 Close Reading to Learn about Lyddie's Character 67
Lesson 5 Analyzing Character 72
Who Is Lyddie?
Lesson 6 Introducing Working Conditions in the Mills 78
Lesson 7 Analyzing Word Choice 86
Understanding Working Conditions in the Mills
Lesson 8 Analyzing Textual Evidence 91
Working Conditions in the Mills
Lesson 9 Mid-Unit Assessment 96
Working Conditions in the Mills
Lesson 10 100
Framing Lyddie's Decision and Practicing Evidence-Based Claims
Lesson 11 Forming Evidence-Based Claims 106
Should Lyddie Sign the Petition?
Lesson 12 Generating Reasons 112
Should Lyddie Sign the Petition?
Lesson 13 Writing an Argumentative Essay 118
Introducing the Writing Prompt and Model Essay
Lesson 14 Writing an Argumentative Essay 124
Crafting a Claim
Lesson 15 Writing an Argumentative Essay 130
Analyzing the Model Essay
Lesson 16 Writing an Argumentative Essay 135
Planning the Model Essay
Lesson 17 Writing an Argumentative Essay 140
Peer Critique
Lesson 18 End-of-Unit Assessment, Part 1 146
Drafting the Argumentative Essay
Lesson 19 World Café to Analyze the Characters in Lyddie 151
Lesson 20 End-of-Unit Assessment, Part 2 159
Revise Essay Drafts
Unit 2 163
Unit Overview Case Study 163
How Working Conditions Change: Chávez and the United Farm Workers
Lesson 1 Building Background Knowledge 172
Who Changes Working Conditions?
Lesson 2 Reading Closely 178
Introducing Chávez's "Commonwealth Club Address" and Considering the Plight of the Farmworker
Lesson 3 Reading Closely and Introducing the Rhetoric Toolbox 185
Unions as Agents of Change, Part 1
Lesson 4 Speech Structure 192
Unions as Agents of Change, Part 2
Lesson 5 Mid-Unit Assessment 197
How Chávez Develops His Claims in the "Commonwealth Club Address"
Lesson 6 Speech Structure 201
Part 2 of the "Commonwealth Club Address"
Lesson 7 Synthesizing Chávez's Central Claim 206
Lesson 8 End-of-Unit Assessment 211
Analyzing the Structure of Chávez's "The Wrath of Grapes" Speech
Unit 3 215
Unit Overview Culminating Project 215
Working Conditions in the Modern Garment Industry
Lesson 1 Setting a Purpose for Research 224
What Are Fair Working Conditions?
Lesson 2 Researching 230
Asking the Right Questions
Lesson 3 Research 237
Paraphrasing Relevant Information
Lesson 4 Deepening Your Research 242
Lesson 5 Mid-Unit Assessment and Independent Reading Check-In 247
Lesson 6 Individual Research 252
Lesson 7 End-of-Unit Assessment 257
Writing a Research Synthesis
Lesson 8 Performance Task 262
Planning the Final Brochure
Lesson 9 Performance Task 266
Publishing the Final Brochure
Lesson 10 Module Reflection and Writing Book Reviews 270