English Language Arts, Grade 7 Module 4: Reading and Research, Teacher Set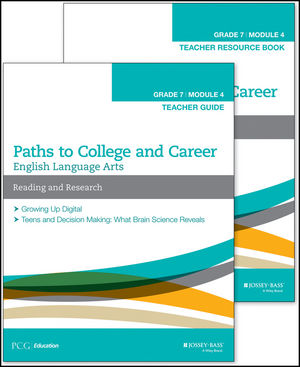 English Language Arts, Grade 7 Module 4: Reading and Research, Teacher Set
ISBN: 978-1-119-10535-0
Mar 2016, Jossey-Bass
Product not available for purchase
Description
Paths to College and Career is a new, comprehensive English Language Arts curriculum for grades 6 to 12 built from the ground up over a three-year period to address the Common Core State Standards (CCSS) for English Language Arts and Literacy. It reflects a deep understanding of the standards and assessments, and is written with a focus on the shifts in instructional practice and student experiences the standards require. It includes daily lesson plans, guiding questions, recommended texts, scaffolding strategies, and other classroom resources.

Paths to College and Career provides teachers, schools, and districts with a concrete and practical ELA instructional program that engages students with compelling and complex texts. At each grade level, Paths to College and Career delivers a yearlong curriculum that develops all students' ability to

• read closely and engage in text-based discussions,

• build evidence-based claims and arguments,

• conduct research and write from sources, and

• expand their academic vocabulary.

Paths to College and Career's instructional resources address the needs of all learners, including students with disabilities, English language learners, and gifted and talented. The curriculum is flexible, user friendly, engaging, and purposefully built to prepare students for career, college, and life.

Module 4 of Grade 7 focuses on a "science and society" topic, engaging students in reading compelling informational text about adolescent brain development and the effects of entertainment screen time on the brain. Students first read various texts that will build their background knowledge on the adolescent brain in general, then they begin to focus on the issue of screen time and how it may affect teenagers. They dive deeper into first the potential benefits and then the potential risks of screen time by participating in a robust research project. After learning specific decision-making techniques, students plan and draft a position paper on the recommended screen time for adolescents.