English Language Arts, Grade 8 Module 3: Understanding Perspectives, Teacher Set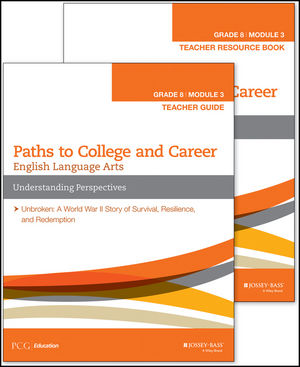 English Language Arts, Grade 8 Module 3: Understanding Perspectives, Teacher Set
ISBN: 978-1-119-10549-7
Nov 2015, Jossey-Bass
Product not available for purchase
Description
Paths to College and Career is a new, comprehensive English Language Arts curriculum for grades 6 to 12 built from the ground up over a three-year period to address the Common Core State Standards (CCSS) for English Language Arts and Literacy. It reflects a deep understanding of the standards and assessments, and is written with a focus on the shifts in instructional practice and student experiences the standards require. It includes daily lesson plans, guiding questions, recommended texts, scaffolding strategies, and other classroom resources.

Paths to College and Career provides teachers, schools, and districts with a concrete and practical ELA instructional program that engages students with compelling and complex texts. At each grade level, Paths to College and Career delivers a yearlong curriculum that develops all students' ability to

• read closely and engage in text-based discussions,

• build evidence-based claims and arguments,

• conduct research and write from sources, and

• expand their academic vocabulary.

Paths to College and Career's instructional resources address the needs of all learners, including students with disabilities, English language learners, and gifted and talented. The curriculum is flexible, user friendly, engaging, and purposefully built to prepare students for career, college, and life.

In Module 3 of Grade 8, students will study Japanese-American relations during World War II. They will consider the question "How does war affect individuals and societies?" as they read case studies about the plight of Japanese-Americans interned on American soil and American prisoners of war held captive in Japan during World War II. The central texts are Unbroken by Laura Hillenbrand and a short biography of Miné Okubo, a Japanese-American interned during the war. As students read both of these pieces of literary nonfiction, they will consider how the narrative structure can communicate real events in a compelling manner. Students will research Miné Okubo's life after internment; and for their final performance task, will write a narrative in which they tell the story of how she went from being made "invisible" during internment to becoming "visible" post-internment.