English Translation and Classical Reception: Towards a New Literary History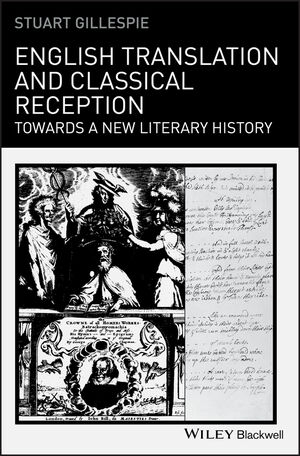 English Translation and Classical Reception: Towards a New Literary History
ISBN: 978-1-444-39648-5
Feb 2011, Wiley-Blackwell
224 pages
Description
English Translation and Classical Reception is the first genuine cross-disciplinary study bringing English literary history to bear on questions about the reception of classical literary texts, and vice versa. The text draws on the author's exhaustive knowledge of the subject from the early Renaissance to the present.
The first book-length study of English translation as a topic in classical reception
Draws on the author's exhaustive knowledge of English literary translation from the early Renaissance to the present
Argues for a remapping of English literary history which would take proper account of the currently neglected history of classical translation, from Chaucer to the present
Offers a widely ranging chronological analysis of English translation from ancient literatures
Previously little-known, unknown, and sometimes suppressed translated texts are recovered from manuscripts and explored in terms of their implications for English literary history and for the interpretation of classical literature



Preface.
Acknowledgements.
Note on Texts.
1. Making the Classics Belong: A Historical Introduction.
2. Creative Translation.
3. English Renaissance Poets and the Translating Tradition.
4. Two-Way Reception: Shakespeare's Influence on Plutarch.
5. Transformative Translation: Dryden's Horatian Ode.
6. Statius and the Aesthetics of Eighteenth-Century Poetry.
7. Classical Translation and the Formation of the English Literary Canon.
8. Evidence for an Alternative History: Manuscript Translations of the Long Eighteenth Century.
9. Receiving Wordsworth, Receiving Juvenal: Wordsworth's Suppressed Eighth Satire.
10. The Persistence of Translations: Lucretius in the Nineteenth Century.
11. 'Oddity and struggling dumbness': Ted Hughes's Homer.
12. Afterword.
References.
Index of Ancient Authors and Passages.
General Index.
"Stuart Gillespie's English Translation and Classical Reception is a beneficiary of this ferment, supplemented by the author's comprehensive knowledge of translation history, translation theory, and the growing bibliography in his field."  (Modern Philology, 1 August 2014)
"Overall, this volume will be a key resource for the study of creative translation of classical texts in English, and thoroughly succeeds in emphasising its importance in the history of English literature. Its author's unmatched grasp of the range of the source material is a great benefit...." (Bmcreview, 8 February 2012)
"Taken together, the various case studies of the book express an energetic engagement with the rich inheritance of classical literature and its complex role in and through English translation."  (CJ-Online, 5 September 2012)