Enhancing Adult Motivation to Learn: A Comprehensive Guide for Teaching All Adults, 4th Edition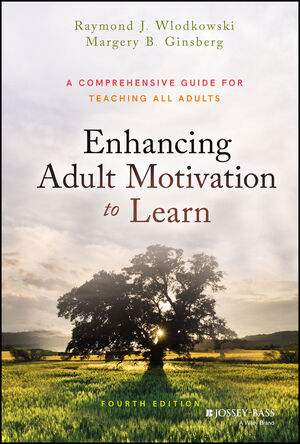 Enhancing Adult Motivation to Learn: A Comprehensive Guide for Teaching All Adults, 4th Edition
ISBN: 978-1-119-07799-2 August 2017 Jossey-Bass 512 Pages
Description
The classic interdisciplinary reference on adult education, updated for today's learning environment
Enhancing Adult Motivation to Learn provides adult educators with the information and strategies they need to guide non-traditional students toward positive educational outcomes. Providing a clear framework, guidelines for instructional planning, real-world examples, and cutting-edge ideas, this book fills the need for intrinsically motivating instruction targeted specifically toward adults returning to school. This new fourth edition sharpens the focus on community colleges, where most first-generation college students and working adults begin their higher education, and explores the rising use of technology and alternative delivery methods including a new chapter covering online instruction.
Since the publication of its first edition, this book has become a classic reference for understanding adult motivation in educational and training settings. As more and more adults re-enter the educational system, instructors and trainers will find extraordinary value in this exploration at the intersection of research and practice.
Examine the latest neuroscience and psychological research pertaining to adult motivation and learning
Delve into alternative formats including online learning, interactive learning materials, and more
Elicit and encourage adult intrinsic motivation using the Motivational Framework for Culturally Responsive Teaching and sixty practical, research-backed strategies
Adopt a culturally responsive instructional approach for an inclusive and equitable learning environment.
Adult students differ from traditional students in motivation, attitude, experience, and more; this, combined with an increasingly diverse body of students as well electronic delivery methods, makes today's teaching environment a new landscape for instructors to navigate. Enhancing Adult Motivation to Learn provides a clear guide to success for instructors and students alike.
Table of contents
CONTENTS
Acknowledgments
About the Author
Preface
1. Understanding Motivation for Adult Learners
2. Understanding How Aging and Culture Affect Motivation to Learn
3. Characteristics and Skills of a Motivating Instructor: The Five Pillars
4. What Motivates Adults to Learn
5. Encouraging Motivation in Online Formats
6. Establishing Inclusion among Adult Learners
7. Helping Adults Develop Positive Attitudes toward Learning
8. Enhancing Meaning in Learning Activities
9. Engendering Competence among Adult Learners
10. Building Motivational Strategies into Instructional Designs
Epilogue: Ethical Considerations for an Instructor of Adults
References
About the Author
Index