Enhancing Productivity: Administrative, Instructional, and Technological Strategies: New Directions for Higher Education, Number 103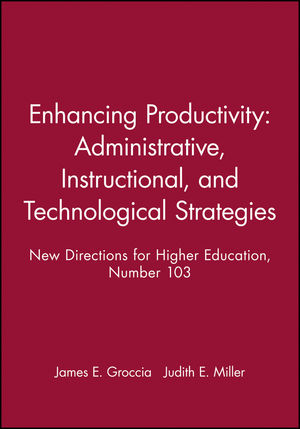 Enhancing Productivity: Administrative, Instructional, and Technological Strategies: New Directions for Higher Education, Number 103
ISBN: 978-0-787-94248-9 October 1998 Jossey-Bass 120 Pages
Description
Tight budgets, withering public funding sources, tuition escalating, expanding pressures to do more with less. Facing such crises, higher education must creatively seek methods to reduce costs, increase productivity, and recapture the public trust. This volume presents a multi-faceted approach for enhancing productivity that emphasizes both cost-effectiveness and the importance of bringing together all segments of the educational economy--institutions, faculty, students, and society--to achieve long-term productivity gains. The contributors demonstrate how productivity can be increased in key areas throughout the institution, including improved administrative processes, restructured curricula, more efficient use of classroom time, and the effective adaptation of technology.

This is the 103rd issue of the quarterly journal New Directions for Higher Education.
Administrative Approaches to Educational Productivity (H. Levin & W. Koski).
Enhancing the Productivity of Learning: Curricular Implications (D. Johnstone & P. Maloney).
Enhancing Pedagogical Productivity (B. Walvoord & K. Pool).
Technology's Contribution to Higher Education Productivity (W. Massy & A. Wilger).
A Cost-Effectiveness Model for the Assessment of Educational Productivity (J. Catterall).
Summary and Synthesis (J. Groccia & J. Miller).