Enough About You, Let's Talk About Me: How to Recognize and Manage the Narcissists in Your Life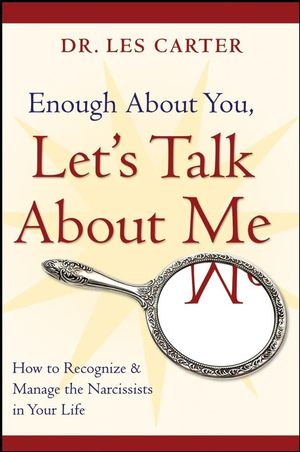 Enough About You, Let's Talk About Me: How to Recognize and Manage the Narcissists in Your Life
ISBN: 978-0-470-18514-8 January 2008 Jossey-Bass 208 Pages
Description
Those who are in the unenviable position of living or working with a narcissist have learned by sad trial and error that they are the only one in the relationship who can change the dynamic. Certainly narcissists don't think they need to change. Enough About You, Let's Talk About Me is a hands-on resource for helping colleagues, families, and spouses deal with people who exhibit narcissistic tendencies by learning how to change their own attitudes and responses.
Introduction.
Part One: It's All About Me.
Chapter 1 What Makes a Narcissist?
Chapter 2 Why Does Someone Become a Narcissist?
Part Two: Recognizing the Patterns.
Chapter 3 The Narcissist with an Insatiable Need for Control.
Chapter 4 The Passive-Aggressive Narcissist.
Chapter 5 The Bottomless Well of Common Narcissistic Demands.
Part Three: Dealing with the Narcissists in Your Life.
Chapter 6 Examining Your Anger.
Chapter 7 Removing Fear from the Equation.
Chapter 8 Committing to Humility.
Chapter 9 Fostering Your Own Inner Security.
Chapter 10 Replacing Bitterness with Forgiveness.
The Author.