Enterprise Dashboards: Design and Best Practices for IT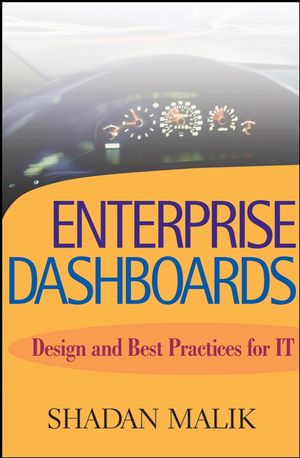 Enterprise Dashboards: Design and Best Practices for IT
ISBN: 978-0-471-73806-0 August 2005 240 Pages
Description
Enterprise Dashboards: Design and Best Practices for IT is a one-stop resource of methodology and best practices for this dynamic and relevant information platform, packed with charts, reports, visual indicators, and alert mechanisms, all consolidated in a rich computer interface. This powerful book is both a guide and a handbook. It helps business leaders understand dashboarding while considering dashboards for their information needs and outlines a tested and proven, step-by-step implementation framework. Enterprise Dashboards covers strategies, vendor selections, execution steps, project milestones, dashboard types, case studies contributed by DaimlerChrysler, Emergency Medical Associates, and ING Direct, and more. Enterprise Dashboards: Design and Best Practices for IT is the perfect tool to help COOs, CIOs, CFOs, CTOs, IT managers, business intelligence managers, information analysts, and software consultants be successful at dashboard implementation.
Preface.
Acknowledgments.
About the Contributors.
PART ONE: Dashboard Execution.
1. Business Case for Enterprise Dashboards.
2. Dashboarding Process: The Meta-Information.
3. The Audience.
4. Presentation: Design, Layout, and Navigation.
5. Dashboard Alerts.
6. Storyboarding.
7. Project Planning and Branding.
PART TWO: Dashboard Types.
8. Dashboard Categories.
9. Divisional Dashboards.
PART THREE: Dashboard Software Assessment.
10. Software Features.
11. Software Acquisition and ROI.
PART FOUR: Case Studies.
12. DaimlerChrysler Sales and Marketing Dashboard.
13. ING DIRECT Executive Dashboard.
14. Dashboard in Health Care (Emergency Medical Associates).
Index.