Enterprise JMSTM Programming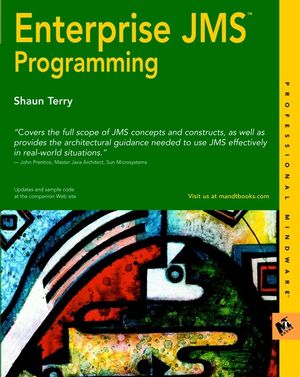 Enterprise JMSTM Programming
ISBN: 978-0-764-54897-0
Mar 2002
408 pages
Product not available for purchase
Description
This book brings you complete coverage of Sun's Java Message Service API from one of Sun's very own Java experts. You'll find detailed coverage of topics such as JMS security and integration of JMS-based systems in Internet and application server environments. Clear and concise coverage with robust examples set this book apart from the existing titles on the market -- exactly what serious developers are looking for.
Preface.

Acknowledgments.

PART I: JMS Programming.

Chapter 1: Introducing JMS.

Chapter 2: The JMS Message.

Chapter 3: Sending Messages.

Chapter 4: Receiving Messages.

Chapter 5: Publish/Subscribe Messaging.

Chapter 6: Point-to-Point Messaging.

Chapter 7: Building Message-Driven Beans with EJB 2.0.

Chapter 8: JMS Transactions.

Chapter 9: Securing JMS.

Chapter 10: Maximizing JMS Performance.

PART II: JMS Administration.

Chapter 11: Administering JMS.

Chapter 12: Sample Administration of Real JMS Products.

PART III: JMS Architecture.

Chapter 13: An Enterprise Real-Time Financial Trading System.

Chapter 14: An Integrated Workflow System.

Chapter 15: A High-Volume Extranet System.

Chapter 16: An Internet Order-Taking System.

Appendix A: API Listing.

Appendix B: JMS-Compliant Products.

Index.
Companion Site
Bonus Content
Your Enterprise JMS Road Map
J2EE's Java Message Service API provides a common interface for standard messaging protocols, as well as special messaging services that support XML and Java objects. Written by one of Sun's senior Java architects, this clear and concise guide shows you how to put JMS to work in mission-critical enterprise applications — and helps you stay at the forefront of enterprise computing trends, including peer-to-peer and disconnected application development. Robust examples and detailed coverage of advanced topics, such as JMS security and enterprise integration, make this the most complete JMS reference available.
Put JMS to Work:
Integrate JMS-based systems in Internet and application server environments
Enable disconnected applications to communicate with each other
Find out when — and when not — to use JMS for network-oriented messaging
Build message-driven Enterprise JavaBeans
Maximize JMS performance for mission-critical applications
Learn system architectures for data distribution, workflow, Internet order-taking, and more
Download all the source code for the examples and get started.
The author, Shaun Terry, welcomes your comments and questions. Please feel free to contact him at enterprisejms@yahoo.com