Enterprise Marketing Management: The New Science of Marketing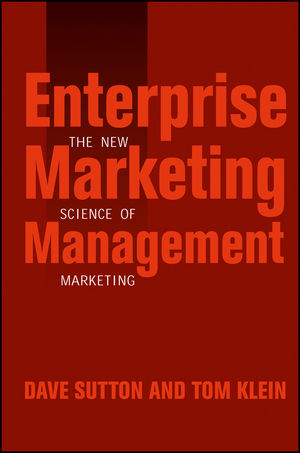 Enterprise Marketing Management: The New Science of Marketing
ISBN: 978-0-471-48086-0
Jul 2006
224 pages
Description
A groundbreaking paradigm that takes a scientific approach to marketing practice
Top executives at the renowned Zyman Marketing Group introduce a revolutionary new method for marketing managers—Enterprise Marketing Management (EMM). EMM systematically links marketing to all the essential functions within an organization, realigning the enterprise to put marketing efforts and customer service at its core. With an introduction by marketing guru Sergio Zyman, Enterprise Marketing Management covers topics such as brand architecture, investment measurement, and how to engineer creativity. EMM, adopted by many Z-Marketing clients, is a proven strategy for transforming organizations and achieving bottom-line results.
Dave Sutton (Atlanta, GA) is President/CEO of Zyman Marketing Group. He has more than eighteen years of experience in management and technology consulting. He is a frequent speaker on brand strategy, marketing strategy, and e-business strategy, and serves as President of the Strategic Leadership Forum. He is regularly quoted in Fortune, Forbes, eCompany Now, Upside, and the Chicago Tribune. Tom Klein (Atlanta, GA) is Vice President of Zyman Marketing Group. He has fifteen years of experience in strategy, information technology, and brand marketing.
Foreword: Sergio Zyman.
Introduction: Enterprise Marketing Management.
PART I. RUN BRANDS AS BUSINESSES, NOT AS CAMPAIGNS.
Chapter 1. Marketing Is Not an Art—It Is a Science.
Chapter 2. Architect Your Brand.
Chapter 3. Plug Marketing Into the Enterprise.
PART II. MANAGE YOUR BRAND, NOT YOUR CUSTOMER.
Chapter 4. Take Ownership of the Brand Experience.
Chapter 5. Plug Marketing Into CRM.
Chapter 6. Cross-Marketing to Cross-Sell.
Chapter 7. Use New Media for Brand Activation.
PART III. REINVENT YOUR BUSINESS, NOT JUST COMMUNICATIONS.
Chapter 8. Restructure Based on Brand Experience.
Chapter 9. Measure Investment Performance.
Chapter 10. Optimize Marketing Investments to Drive Profitable Sales.
Conclusion: A New Day for Marketing.
Index.
The founder of Zyman Marketing Group and bestselling author of The End of Marketing As We Know It, Segio Zyman has been developing his cutting-edge marketing principles for years. This books shows how organizations can use the ideas laid out in End of Marketing to develop more logical and effective marketing strategies. In his introduction, he calls Enterprise Marketing Management the ideal companion book to The End of Marketing As We Know It and The End of Avertising As We Know It.
This book introduces students to a new science of marketing, coined Enterprise Marketing Management. The approach posited in this book will revolutionize the way marketing departments interact with their parent organizations, making them the integral players they ought to be in creating company image and value. This is must-read for top management looking to exercise the full potential of their marketing departments.