Entre Nous: A Communicative Approach to Beginning French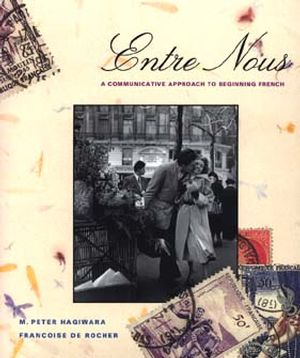 Entre Nous: A Communicative Approach to Beginning French
ISBN: 978-0-471-54996-3 December 1993 560 Pages
Description
Students will obtain the necessary skills and confidence to effectively communicate in French. Enables them to aim for a satisfactory level of proficiency in understanding and using the basic structures and vocabulary and to appreciate the contemporary culture and civilization of France and the francophone world. Uses a variety of approaches to second language learning and teaching and promotes the active use of the language in authentic contexts and communicative situations.
Table of contents
Tu as Cours à Midi?.
Jouons au Tennis Samedi Prochain!.
Faisons Connaissance!.
Que Veux-Tu Prendre?.
Faisons des Courses!.
Quelle Belle Maison!.
Qu 'est-ce qui ne va pas?.
Allons à Paris!.
Dans les Pays Francophones.
Amusons-Nous!.
As-Tu Envoye/aa ton C.V.?.
Partons en Voyage!.
Appendices.