Entrepreneurship, 3rd Edition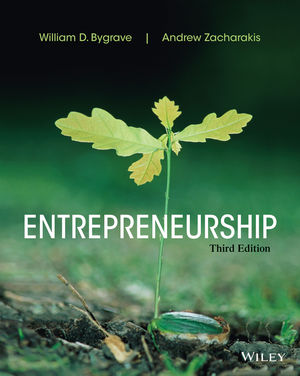 Entrepreneurship, 3rd Edition
ISBN: 978-1-118-58289-3 February 2014 608 Pages
Description
Entrepreneurship, 3rd Edition explores the trials and tribulations of entrepreneurship so that they'll have the necessary tools to start their own businesses. It offers coverage on social enterprises and ethics due to the rise in green trends and corporate scandals. A chapter on entrepreneurial selling that examines how to sell to multiple stakeholders is included in this text, as well as case studies that provide relevant views. Up-to-date examples and references provide entrepreneurs with the most useful information.
Chapter 1 - The Power of Entrepreneurship
Chapter 2 - The Entrepreneurial Process
Chapter 3 - Opportunity, Recognition, Shaping and Reshaping
Chapter 4 - Understanding Your Business Model And Developing Your Strategy
Chapter 5 - Entrepreneurial Marketing
Chapter 6 - Building The Founding Team
Chapter 7 - The Business Planning Process
Chapter 8 - Building Your Pro Forma Financial Statements
Chapter 9 - Facing Entrepreneurial Ventures Worldwide
Chapter 10 - Raising Money For Starting And Growing Businesses
Chapter 11 - Debt And Other Forms Of Financing
Chapter 12 - Legal And Tax Issues, Including Intellectual Property
Chapter 13 - Entrepreneurial Growth
Chapter 14 -
Social Entrepreneurship: An Overview
LivePlan and Business Plan Pro, the best-selling business plan development programs are available with Entrepreneurship in value-priced packages to give students access to the leading resources to develop their business plans.
New Chapter 14 on Social Entrepreneurship written by Brad George and Candida Brush.
New cases throughout the book include: Meta Carta, Vera Bradley and Eu Yan Sang.
Expanded Chapter 4 section on business models now includes hybrid models (like freemium, etc.).
Updated examples throughout book, focusing on new internet (Web 2.0, 3.0, mobile aps, etc.) examples.
Combined chapters 12 and 13 into one legal issues chapter.
Updated statistics such as GEM data on entrepreneurial activity.
Social Entrepreneurship Coverage: Chapter 14 on Social Entrepreneurship presents the latest examples and most relevant businesses to explore this growingfield.
Balance of Concepts and Cases: The text presents concepts underlying how businesses are born, grow and succeed or fail, along with a variety of real-life cases to illustrate these concepts. 
End of Chapter Cases: Each chapter is accompanied by a case study of entrepreneurs in action.
Opportunity Journal: Students can reflect on the lessons learned and think about how to apply the lessons to their future careers.
Business Simulations: Suite of business and ethics simulations offered by Ethics-LX http://www.ethics-lx.com/