Entrepreneurship and Small Business, 3rd Asia-Pacific Edition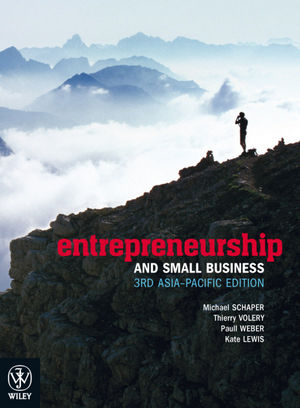 Entrepreneurship and Small Business, 3rd Asia-Pacific Edition
ISBN: 978-1-742-16462-5
Dec 2010
496 pages
Product not available for purchase
Description
Starting and running your own enterprise is one of the most rewarding but challenging ways to develop a business career. This text provides students with the theoretical and practical knowledge needed to successfully own and manage a new, small or growing business venture.



It covers all of the key concepts and tools needed in both entrepreneurship and small business management.  It provides comprehensive information about small business management and entrepreneurship in Australia, New Zealand, China, India, Singapore, Malaysia and Hong Kong, providing students with a truly international perspective.
Preface.
Acknowledgements.
PART 1 The nature of small business and entrepreneurship.
CHAPTER 1 Entrepreneurship: definition and evolution.
CHAPTER 2 The personality of entrepreneurs.
CHAPTER 3 Creativity, innovation and entrepreneurship.
CHAPTER 4 Small business: definitions and characteristics.
PART 2 Getting into business.
CHAPTER 5 Options for going into business.
CHAPTER 6 Market research and strategy formulation.
CHAPTER 7 Preparing a business plan.
CHAPTER 7 APPENDIX Sample business plan.
CHAPTER 8 Legal issues.
CHAPTER 9 Financing new and growing business ventures.
CHAPTER 10 Accessing business advice and assistance.
CHAPTER 11 Marketing.
CHAPTER 12 Operations management.
CHAPTER 13 Human resource issues in new and small firms.
CHAPTER 14 Financial information and management.
PART 4 Selected topics.
CHAPTER 15 ICT as a business tool .
CHAPTER 16 Managing growth and transition.
CHAPTER 17 Corporate entrepreneurship.
CHAPTER 18 Contemporary issues in small businessand entrepreneurship.
A new chapter on the use of information and communication technologies as a business tool - Chapter 15
19 new Entrepreneur Profiles
14 new What would you do?
13 new Cases
New coverage of Social Entrepreneurship in Chapter 18
What would you do? Presents a scenario in each chapter in which an entrepreneur/small business manager needs to respond to a problem or situation.
The Entrepreneur Profile in every chapter highlights business operators from across Australia, New Zealand and the Asia-Pacific region.
The end-of-chapter Case Study profiles an entrepreneurial approach and/or small business management issue in the Australasian region.
Web links to numerous practical sources of business advice and information.