Environment, Enhanced eText, 10th Edition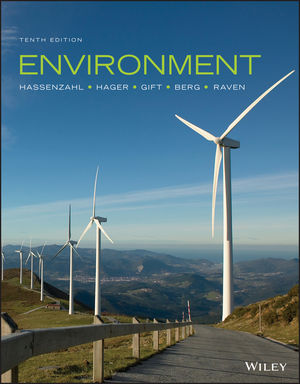 Environment, Enhanced eText, 10th Edition
ISBN: 978-1-119-39341-2 February 2018 560 Pages
Description
Environment, Tenth Edition helps students understand the connection between the core concepts of the Environmental Science and their daily lives. The 10th edition enhanced e-text features a rich, interactive collection of current case studies and in-text examples, which provides students with the tools to understand, apply, and think critically about environmental science. It also provides instructors with powerful tools to assess individual students progresses well as the class as a whole.
New "Climate" icon: The Climate icon flags all discussions and features strongly related to climate change, including graphs and illustrations. Its prevalence throughout the text illustrates the widespread influence of climate change across environmental science issues.
Integrated media resources: WileyPLUS for Environmental Science gives faculty a significant tool by providing them with a mechanism for motivating students while integrating supplementary resources, including new videos and animations.
You Can Make a Difference boxes where students must apply ethical decision making.
Chapter Introductions illustrate certain concepts in the chapter with stories about some of today's most pressing environmental issues.
Food for Thought features in most chapters challenge students to consider how issues in the chapter relate to some aspect of food systems.
Learning Objectives at the beginning of each section head indicate in behavioral terms what the student must be able to do to demonstrate mastery of the material in the chapter.
Meeting the Challenge boxes profile environmental success stories.
Tables and Graphs, with complete data sources cited in the text, summarize and organize important information.
Marginal Glossaries, located in every chapter, provide handy definitions of the most important terms.
Case in Point features offer a wide variety of in-depth case studies that address important issues in the field of environmental science.
A focus on Systems and Sustainability highlight how the various aspects of the environment interact, and how changes in one part of the environment might affect other processes, places and organisms. Understanding this is essential to managing existing problems, avoiding future problems and improving the world we live in.
Well-developed extensive pedagogy offers a clear way for students to move from general concepts to applications of key concepts.
In Your Own Backyard feature provides a critical thinking question at the beginning of each chapter and connects the broad themes of the text to local issues and resources students can investigate.
Critical Thinking and Review Questions, many new to this edition, encourage critical thinking and highlight important concepts and applications. At least one question in each chapter provides a systems perspective; another question relates climate and energy to the chapter. Visual questions have been added to each chapter.