Environment and the Developing World: Principles, Policies and Management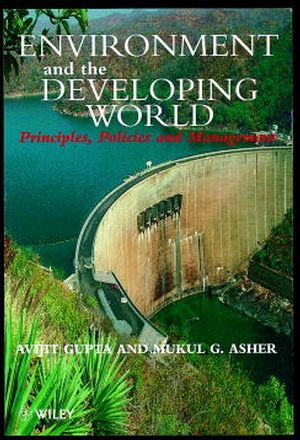 Environment and the Developing World: Principles, Policies and Management
ISBN: 978-0-471-98338-5 August 1998 370 Pages
Description
Environment and the Developing World brings together the various aspects of environmental studies and management (earth and natural sciences, engineering and economics) as they relate to the developing world. It discusses environmental issues as well as the techniques and infrastructure for their management at various levels: global, national and local. The examples range from global warming and ozone depletion to the management of water resources and indoor air pollution. The book stresses the interrelated and interdisciplinary nature of environment, discusses the concept of sustainable development, explores the role of non-governmental organisations, and evaluates the importance attributed by international and multilateral organisations to monitoring environmental aspects of development projects. It critically reviews various economic, social and regulatory policies which address environmental issues. The different disciplines of the two authors (a physical geographer and a public policy economist) help to maintain the balanced and interdisciplinary nature of the book. Written primarily for advanced undergraduates, this is a stimulating text for any environment related course. Written in simple language and avoiding unnecessary jargon the book explains clearly the technical aspects of environmental management. Profuse illustrations, a large number of examples from a range of geographical areas, boxed case studies and stimulating exercises make the book attractive and comprehensive. All these features make the book a unique teaching tool in environmental management in the developing world.
Table of contents
BASIC TOOLS AND CONCEPTS.

Introduction to the Physical Environment.

World Population: Distribution and Trends.

Economics of Environment: Concepts and Tools.

MANAGING THE ENVIRONMENT.

Natural Vegetation as a Resource

Land Use and Environmental Impact.

Development of Water Resources.

Energy and Development.

Changing Air Quality.

Urban Development and Environmental Modification.

The Coastal Waters.

Techniques for Environmental Evaluation.

THE GLOBAL ISSUES.

The History of Current Environmental Awareness.

Current Global Events and Projected Effects.

Environmental Arrangements: Present and Future.

Global Governance for Environment.

The Main Issues.

References.

Index.