Environmental, Safety, and Health Engineering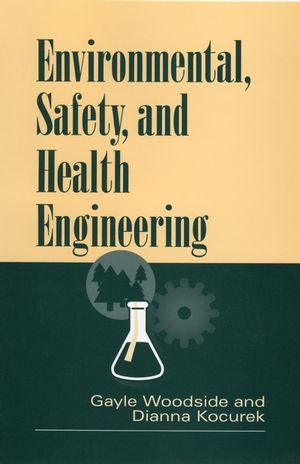 Environmental, Safety, and Health Engineering
ISBN: 978-0-471-10932-7 May 1997 600 Pages
Description
A complete guide to environmental, safety, and health engineering, including an overview of EPA and OSHA regulations; principles of environmental engineering, including pollution prevention, waste and wastewater treatment and disposal, environmental statistics, air emissions and abatement engineering, and hazardous waste storage and containment; principles of safety engineering, including safety management, equipment safety, fire and life safety, process and system safety, confined space safety, and construction safety; and principles of industrial hygiene/occupational health engineering including chemical hazard assessment, personal protective equipment, industrial ventilation, ionizing and nonionizing radiation, noise, and ergonomics.
Table of contents
Partial table of contents:

REGULATORY OVERVIEW.

Environmental Protection Agency.

Occupational Safety and Health Administration.

PRINCIPLES OF ENVIRONMENTAL ENGINEERING.

Air Pollution Engineering.

Waste Treatment and Disposal Technologies.

Wastewater and Water Quality.

Statistical Applications.

PRINCIPLES OF SAFETY ENGINEERING.

Safety Management.

Fire and Life Safety.

Construction Safety.

PRINCIPLES OF INDUSTRIAL HYGIENE AND OCCUPATIONAL HEALTH ENGINEERING.

Chemical Hazard Assessment and Communication.

Industrial Ventilation.

Noise and Hearing Conservation.

Appendices.

Index.