Environmental Science: Active Learning Laboratories and Applied Problem Sets, 2nd Edition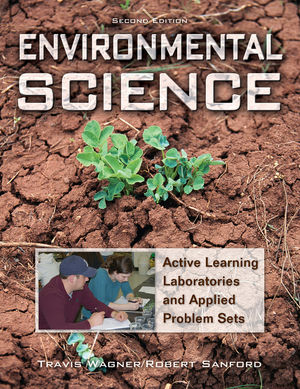 Environmental Science: Active Learning Laboratories and Applied Problem Sets, 2nd Edition
ISBN: 978-0-470-08767-1
Jan 2009
264 pages
Description
Environmental Science: Active Learning Laboratories and Applied Problem Sets is designed to introduce environmental science students to the broad, interdisciplinary field of environmental science by presenting specific labs that use natural and social science concepts to varying degrees and by encouraging a ""hands on"" approach to understanding the impacts from the environmental/human interface. The laboratory and homework activities are designed to be low-cost and to reflect a sustainability approach in practice and in theory.
Introduction.
Part One: General Information.
Laboratory Health & Safety Procedures.
Writing Laboratory Reports.
Part Two: Labs.
Lab One: Environmental Awareness.
Lab Two: Science and the Popular Media.
Lab Three: Greening of the Campus.
Lab Four: Environmental Site Inspection.
Lab Five: Life Cycle Assessment.
Lab Six: Urban Ecosystems.
Lab Seven: Experimental Design: Range of Tolerance.
Lab Eight: Experimental Design: Environmental Contamination.
Lab Nine: Landscaping for Energy Conservation.
Lab Ten: Human Survivorship Changes.
Lab Eleven: Dowsing for Water.
Lab Twelve: Aquatic Species Diversity.
Lab Thirteen: Environmental Forensics.
Lab Fourteen: Field Trip: Sewage Treatment Plant.
Lab Fifteen: Field Trip: Wetlands Mitigation.
Lab Sixteen: Field Trip: Water Treatment Plant.
Lab Seventeen: Global Climate Change and Automobiles.
Lab Eighteen: Indoor Air Quality Inspection.
Lab Nineteen: Soil Characterization.
Lab Twenty: Landfill Planning and Placement.
Lab Twenty-One: Pollution Prevention: Solid Waste.
Lab Twenty-Two: Field Trip: Solid Waste Management
Lab Twenty-Three: Toxicity Testing and the LC50.
Lab Twenty-Four: Environmental Risk Ranking.
Lab Twenty-Five: Sampling for Environmental Pollutants.
Lab Twenty-Six: Indoor Energy Conservation.
Lab Twenty-Seven: Lung Power.
Part Three: Applied Problem Sets.
Problem Set One: The Scientific Method: Observation and Hypothesis.
Problem Set Two: The Scientific Method: Results and Discussion.
Problem Set Three: Quantification of Environmental Problems.
Problem Set Four: Ecosystem Diagram.
Problem Set Five: Biogeochemical Concept Diagram.
Problem Set Six: Global Warming, CO2, and You.
Problem Set Seven: Recognizing Human Impacts.
Problem Set Eight: Ecological Footprints and Sustainability.
Problem Set Nine: Oil Consumption and Future Availability.
Problem Set Ten: Water Quality and Consumer Choice.
Problem Set Eleven: Local Environmental Risk.
Problem Set Twelve: Society and Waste.
Problem Set Thirteen: Introduction to Environmental Modeling.
Problem Set Fourteen: Ecological Identity.
Problem Set Fifteen: Trophic Levels and the Scarborough Marsh.
Problem Set Sixteen: Trophic Ecology of Humans: The Best Guess Breakfast Interview.
Problem Set Seventeen: The Greening of Business.
Problem Set Eighteen: Pesticides and Food.
Problem Set Nineteen: Review and Reflection.
Part Four: Appendices.
Glossary.
The Metric System.
Conversion Factors.
Numerical Prefixes.
About the Authors.
Updated the laboratory activities and homework problem sets.

These laboratory exercises and problem sets have been designed to use a minimum of equipment at a minimum of cost.
Uses innovative learning techniques, such as problem-based, active, and critical learning. Group and cohort paths to knowledge are encouraged. As part of this ap­proach, we stress student-initiated inquiry and experimentation as well as empha­sizing civic responsibility in environmental science.
Develops a variety of topics that mirrors the variety of subjects found in environ­mental science, including urban ecology, global impacts, air pollution, solid waste, energy consumption, soils identification, water quality assessment, and the scien­tific method.
Encourages students to grasp the big picture by relating the lab activity to real life conditions and their individual contribution to environmental problems. We have individual measures and descriptions, but we also nurture application of this learn­ing to the larger ecological picture.
Develops a variety of techniques that include traditional laboratory activities, field exercises, Internet research, calculations/extrapolations, and critical analysis. Be­cause the pursuit of real-world environmental science involves all these compo­nents, so do our lab activities.
Emphasizes the improvement of written and other forms of communication. So much of science has become participatory, particularly in making decisions about its application (i.e., environmental policy). We provide ways for the student to dis­cover that the communication of scientific information is as important as the ac­quisition of scientific knowledge.
Contains relevant problem sets that can be used as labs, lab supplements, or homework assignments for environmental science lectures.