Environmental Social Science: Human - Environment interactions and Sustainability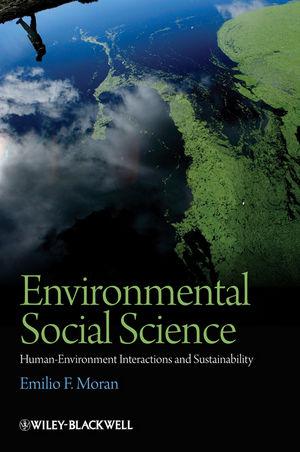 Environmental Social Science: Human - Environment interactions and Sustainability
ISBN: 978-1-444-31905-7 February 2010 Wiley-Blackwell 232 Pages
Description
Environmental Social Science
offers a new synthesis of environmental studies, defining the nature of human-environment interactions and providing the foundation for a new cross-disciplinary enterprise that will make critical theories and research methods accessible across the natural and social sciences.
Makes key theories and methods of the social sciences available to biologists and other environmental scientists
Explains biological theories and concepts for the social sciences community working on the environment
Helps bridge one of the difficult divides in collaborative work in human-environment research
Includes much-needed descriptions of how to carry out research that is multinational, multiscale, multitemporal, and multidisciplinary within a complex systems theory context
Table of contents
Preface.
1. The Challenge of Human-Environment Interactions Research.
The Evolution of Social Ecological Systems.
Characterization of Contemporary Global Environmental Changes.
History of the Development of the Human Dimensions Agenda.
Characteristics of the Research on the Human Dimensions.
The Way Forward: Integrative Science.
2. Theories and Concepts from the Social Sciences.
Population, Technology and Central Place Theories .
Population and Environment Theories.
Agency and History.
Decision-theoretic Approaches.
Political Economy and Political Ecology.
Cultural Ecology.
3. Theories and Concepts from the Biological Sciences.
Evolution by Natural Selection.
Species respond individualistically, not as communities, to environmental change.
Interactions with other species help determine if a particular species will persist in a particular place (Niche and Neutral Theories).
Top-down vs. bottom-up control in ecosystems.
Succession.
Island Biogeography.
Equilibrium/non-equilibrium theories of competition, coexistence, community composition
Biodiversity and ecosystem processes/services.
The Ecosystem Concept in Biology and the Social Sciences.
4. Spatially-Explicit Approaches.
Remote Sensing and GIS.
A Case Study using GIS/ Remote Sensing to study Amazonian Deforestation.
Urban-rural spatial dynamics.
Modeling and GIS.
5. Multi-Scale and Multi-temporal Analysis.
An approach to multi-disciplinary, multi-scale research.
Scale.
Local level of analysis.
Regional Level of Analysis.
Global Level of Analysis.
Future Directions.
6. Bio-complexity in Ecological Systems.
Spatially-explicit Processes in Ecological and Social Systems.
Agent-Based Modeling of Complex Systems.
Hierarchical Modeling.
Conclusions.
7. Environmental Decision-Making.
Institutional Analysis.
Individual Behavior and Environmental Decisions.
Decisions and Social Context.
Conclusions.
8. Towards Sustainability Science.
Sustainability Science Research Priorities.
Scales of Sustainability.
Cities and Sustainability Science.
Climate Change and Sustainability.
Conclusions.
Bibliography.
Reviews
"This work represents an impressive bridge between social and natural science. For anyone interested in the development of a comprehensive environmental science." (Choice , 1 April 2011)
"Thanks to its capacity of surfing across natural and social sciences, Moran's work will at minimum help scholars from both sides to create bridges across the gap that still separates them; something that can already be seen as a non-trivial result." (Journal of Artificial Societies and Social Simulation, July 2010)
What's New
Makes the theories and methods of the social sciences available to biologists and other environmental scientists
Illuminates biological theories and concerns for the social sciences community working on the environment
Helps bridge one of the difficult divides in collaborative work in human-environment research
Includes a discussion of how to carry out research that is multinational, multiscale, multitemporal, and multidisciplinary within a complex systems theory context
Facilitates much-needed interdisciplinary collaboration