Environmentally Conscious Manufacturing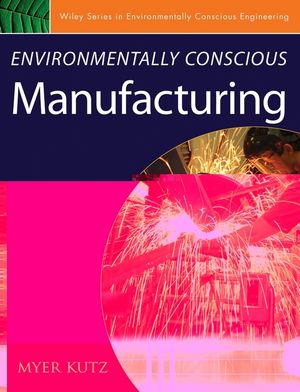 Environmentally Conscious Manufacturing
ISBN: 978-0-471-72637-1
Mar 2007
360 pages
Description
The second volume of the Wiley series, Environmentally Conscious Manufacturing focuses on environmentally preferable approaches to manufacturing.  Contributors present and discuss the technologies engineers need to specify and employ to make manufacturing operations environmentally friendly and conform to environmental regulations.  Chapters cover Hazardous Waste Minimization and Management; Cost-Effective Manufacturing; Real-time Process Monitoring and Control; Ethics in ECM; Governmental Regulations and Policies, and Total Quality Management.  In each chapter case studies are provided to guide readers in areas outside their expertise.
Contributors.
Preface.
1 Environmentally Benign Manufacturing (William E. Biles).
2 Design for the Environment (Jack Jeswiet).
3 Organization, Management, and Improvement of Manufacturing Systems (Keith M. Gardiner).
4 Manufacturing Systems Evaluation (Walter W. Olson).
5 Prevention of Metalworking Fluid Pollution: Environmentally Conscious Manufacturing at the Machine Tool (Steven J. Skerlos).
6 Metal Finishing and Electroplating (Timothy C. Lindsey).
7 Air Quality in Manufacturing (John W. Sutherland, Donna J. Michalek, and Julio L. Rivera).
8 Environmentally Conscious Electronic Manufacturing (Richard Ciocci).
9 Disassembly for End-of-life Electromechanical Products (Hong C. Zhang, Liu Zhifeng, Gao Yang, and Chen Qing).
10 Industrial Energy Efficiency (Bhaskaran Gopalakrishnan, Deepak P. Gupta, Yogesh Mardikar, and Subodh Chaudhari).
11 Industrial Environmental Compliance Regulations (Thomas J. Blewett and Jack Annis).
Index.
"This volume offers detailed exploration of metal working and metalworking fluids. It shows students and young engineers how to design products while keeping a trained eye on the environment." (Electricreview.com; 6/2007)