Environmentally Conscious Transportation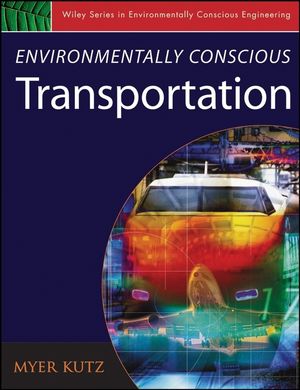 Environmentally Conscious Transportation
ISBN: 978-0-471-79369-4 March 2008 368 Pages
Description
The fifth volume of the Wiley Series in Environmentally Conscious Engineering, Environmentally Conscious Transportation provides a foundation for understanding and implementing methods for reducing the environmental impact of a wide range of transportation modes, from private automobiles (with a separate chapter on biofuels) to heavy trucks and buses to rail and public transportation systems to aircraft. Each chapter has been written by one or more experts who, based on their hands-on field experience, present relevant practical and analytic techniques for enhancing the integrity and reliability of transportation vehicles and infrastructure, as well as for measuring and limiting the pollution caused by transportation activities. Moreover, the book explains how to satisfy key business objectives, such as maximizing profits, while meeting environmental objectives.
Cannot be combined with any other offers.
Original Price:$300.00
Purchased together:$225.00
save $75.00
Table of contents
Contributors
Preface
1. The Economic and Environmental Footprints of Transportation (Lester B. Lave and Michael W. Griffin)
2. Public Transportation and the Environment (Michael D. Meyer)
3. Transportation and Air Quality (Mohan M. Venigalla)
4. The Social Cost of Motor-Vehicle Use in the U.S. (Mark A. Dulucchi)
5. Traffic Congestion Management (Nagui M. Rouphail)
6. Electric and Hybrid Vehicle Design and Performance (Andrew Burke)
7. Hydraulic Hybrid Vehicles (Amin M. Motlagh, Mohammad Abuhaiba, Mohammad H. Elahinia, and Walter Olson)
8. Biofuels for Transportation (Aaron Smith, Cesar Granda, and Mark Holtzapple)
9. Life Cycle Assessment as a Tool for Sustainable Transportation Infrastructure (Gerardo W. Flintsch)
10. Pavement and Bridge Management and Maintenance (Sue McNeil)
11. Impacts of the Aviation Sector on the Environment
Index.
What's New
Focuses on integrating environmentally conscious techniques and objectives into everyday work to solve problems
Covers design optimization, cost reduction and quality improvement while meeting environmental standards and regulations
Includes case studies from diverse industries that will provide guidance to practitioners in areas outside their expertise
Coverage of state-of-the-art topics and industry applications of environmentally conscious transportation