Environmentally Responsible Design: Green and Sustainable Design for Interior Designers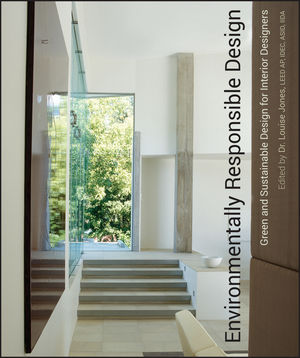 Environmentally Responsible Design: Green and Sustainable Design for Interior Designers
ISBN: 978-1-118-50448-2 July 2012 432 Pages
Description
At last, there's an authoritative guide to help interior designers apply green- building and sustainability applications to their environments. Sustainable Interior Design expertly introduces the principles of environmentally responsible design for interior environments. This useful reference provides beginning designers and experienced professionals alike with a comprehensive survey that coverers everything from theoretical approaches to current practices. It helps designers understand the environmentally responsible approach and make design decisions that are ethical and do not harm the world?s environment.
Table of contents
PART I: Environmentally Responsible Interior Design (ERID). Global Sustainability: The Big Picture. What is ERID? Why is ERID important? Indoor Environmental Quality (IEQ). Energy and Water Issues. PART II: Evaluation of Interior Finishes and Furnishings. Evaluation Instruments. Certification Programs. US Green Building Council (USGBC). ERID Specifications. Specification of ER Products PART III: Case Studies. Part IV Resources.
Reviews
"With plenty of black-and-white pictures, diagrams, charts, a significant glossary, and substantial bibliography, this volume has no shortage of supporting information." (Choice Reviews, June 2009)
What's New
Deals with the hottest and most urgent issue in interior design education.

Comprehensive coverage of all aspects of green/sustainable design, including  Indoor Environmental Quality, Energy and Water Issues, and the Evaluation and Specification of Interior Finishes and Furnishings.

Considers a variety of systems and design philosophies, including LEED-CI, Cradle to Cradle, Minnesota Sustainable Design Guide, and Energy Star®.

Case studies supply real-world successes in the environmentally responsible design of interiors.

Includes contributions by leading educators, including Dorothy Fowles, Anna Marshall-Baker, Helena Moussatche, and Linda Nussbaumer.