Enzyme Kinetics: A Modern Approach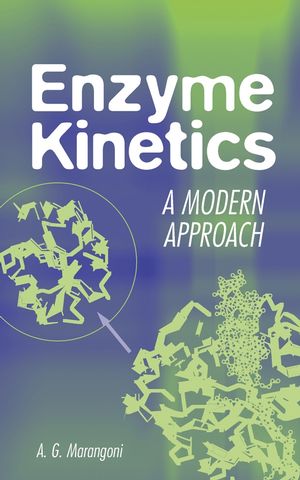 Enzyme Kinetics: A Modern Approach
ISBN: 978-0-471-15985-8 November 2002 248 Pages
Description
Practical Enzyme Kinetics provides a practical how-to guide for beginning students, technicians, and non-specialists for evaluating enzyme kinetics using common software packages to perform easy enzymatic analyses.
Cannot be combined with any other offers.
Original Price:$384.00
Purchased together:$288.00
save $96.00
Table of contents
Preface.

Tools and Techniques of Kinetic Analysis.

How do Enzymes Work?

Characterization of Enzyme Activity.

Reversible Enzyme Inhibition.

Irreversible Enzyme Inhibition.

pH Dependence of Enzyme-Catalyzed Reactions.

Two-Substrate Reactions.

Multisite and Cooperative Enzymes.

Immobilized Enzymes.

Interfacial Enzymes.

Transient Phases of Enzymatic Reactions.

Characterization of Enzyme Stability.

Mechanism-Based Inhibition (Leslie J. Copp).

Putting Kinetic Principles into Practice (Kirk L. Parkin).

Use of Enzyme Kinetic Data in the Study of Structure-Function Relationships of Proteins (Takuji Tanaka and Rickey Y. Yada).

Bibliography.

Index.
Reviews
"…a useful book as an introduction to the topic…complements existing authorative treatments in a concise way..." (
Journal of The Science of Food and Agriculture
, Vol.85, No.1, 15 January 2005)
"...a concise introduction to enzyme kinetics...recommended..." (Choice, Vol. 40, No. 9, May 2003)
"...extremely useful...particularly...the applications and practical examples to demonstrate the mathematical handling of experimental data..." (Clinical Chemistry, Vol. 49, No. 5, 2003)
"...a valuable companion for everyone seeking a quick overview of the theory of enzyme kinetics." (Angewandte Chemie International Edition , Vol. 42, 2003)
"...a useful manual for the experienced researcher and the developing enzymologist." (Journal of Food Quality, Vol. 26)
"...an innovative approach to the field of enzyme kinetic modeling, model transformation, and model analysis...a valuable reference for practitioners in this field." (SIM News, Vol. 53, No. 3, May/June 2003)
"...presents a new way of looking at an old subject... (Angewandte Chemie, 2003)
"...the approach is quite mathematical and will appeal to the reader versed in mathematics and kinetics..." (ChemBioChem, Vol 4(5), 2003)