Equine Color Genetics, 3rd Edition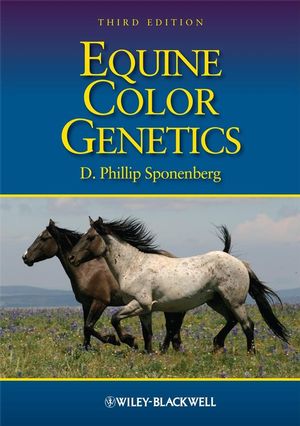 Equine Color Genetics, 3rd Edition
ISBN: 978-0-813-81364-6
Mar 2009, Wiley-Blackwell
296 pages
Product not available for purchase
Description
Equine Color Genetics, Third Edition, presents the most recent advances in color genetics for breeders of horses, donkeys, and mules. The book provides valuable information that enables breeders to tailor their breeding programs to maximize desired color outcomes and minimize undesired color. The text bridges the gap between the scientific and lay communities without ignoring the intricate and complex issues involved in horse and donkey color genetics. This new edition presents more explicit and detailed explanations than were previously possible, including a more extensive Appaloosa section. The section on donkey colors includes the results of studies in the genetic control of color in this species, which will greatly assist donkey breeders as they tailor breeding programs to their own goals.
PREFACE TO THE THIRD EDITION xi
Chapter 1 Introduction 3
Basic Considerations of Horse Color Identification 5
Basic Principles of Genetics 9
Pigments in Horses 13
Pigment Cell Function 14
Chapter 2 Basic Dark Horse Colors: Bay, Chestnut, Black, and Brown 17
Bay, Chestnut, and Black: Definition and Classification 17
Bay, Chestnut, and Black: Genetic Control 19
Dominant Black 23
Two Subtypes of Bay: Wild Bay and Bay 25
Seal Brown 26
General Factors Modifying Bay, Chestnut, and Black 26
Shade: Definition and Classification 26
Shade: Genetic Control 28
Sooty: Definition and Classification 28
Sooty: Genetic Control 31
Mealy: Definition and Classification 32
Mealy: Genetic Control 34
Mane and Tail Color on Chestnut and Sorrel: Definition and Classification 35
Mane and Tail Color on Chestnut and Sorrel: Genetic Control 36
Bend Or Spots 37
Dapples 37
Chapter 3 Colors Built from the Basic Colors 39
Linebacked Dun: Definition and Classification 40
Linebacked Dun: Genetic Control 45
Cream-related Colors: Definition and Classification 46
Cream-related Colors: Genetic Control 50
Champagne: Definition and Classification 52
Champagne: Genetic Control 54
Pearl: Definition, Classification, and Genetic Control 57
Silver Dapple: Definition and Classification 58
Silver Dapple: Genetic Control 61
Mushroom: Definition, Classification, and Genetic Control 63
Other Dilutions 63
Compound Dilute Colors 64
Brindle 67
Eye Color 68
Foal Color 68
Summary of the Genetic Control of Horse Color 69
Chapter 4 Patterns of White 73
General Considerations 73
Patterns with Individual White Hairs: Grey and Roan 74
Grey: Definition and Classification 74
Grey: Genetic Control 77
Roan: Definition and Classification 77
Roan: Genetic Control 80
Frosty 81
White Ticking 81
Patterns of White Striping 82
Roaned 83
White Lacing 83
Birdcatcher Spots 83
Patterns with Nonsymmetric Patches of White: White Marks, Paints, and Pintos 84
Face and Leg Markings: Definition and Classification 84
Face and Leg Markings: Genetic Control 86
Patterns with White Body Patches 87
Paint or Pinto Patterns 87
Tobiano: Definition and Classification 90
Tobiano: Genetic Control 92
Calico Tobiano 93
Overo 93
Frame: Definition and Classification 94
Frame: Genetic Control 95
Sabino: Definition and Classification 97
Sabino: Genetic Control 99
Splashed White: Definition and Classification 102
Splashed White: Genetic Control 103
Manchado 104
Overo Crop Out Horses 105
Combination Paint Patterns 106
Paint Summary 108
White 109
Patterns of White with Symmetric White Patches: The Leopard Complex 110
D.P. Sponenberg, Sheila Archer, and Rebecca Bellone
Leopard Complex: Definition and Classification 110
Leopard Complex: Genetic Control 117
Patterns of White Summary 121
Chapter 5 Horse Color and Horse Breeding 123
Chapter 6 Peculiarities of Hair Growth 129
Chapter 7 Donkey Color 133
Patterns of White 137
Genetics of Donkey Color 140
Summary of Donkey Color 144
Hair Growth in Donkeys 146
Chapter 8 Color Photographs 147
Appendix 1 Horse Color Names by Category 205
Appendix 2 Loci, Alleles, and Effects 211
Appendix 3 Usual Genotypes of Major Colors 215
Appendix 4 Alleles Present in Representative Breeds in the USA 219
Appendix 5 Expected Results of Crossing Various Colors 223
Appendix 6 Unpublished Data Supporting Conclusions 255
Mushroom 255
Calico Tobiano 256
Donkey Color 256
BIBLIOGRAPHY 257
INDEX 267
"This update... has a considerable amount of new information.... the author has succeeded in producing the definitive work on coat color in horses. This excellent book is unique in its field for its breadth and depth. The color photographs alone make it worth its moderate price. The new edition is necessary for anyone interested in the updated material on the genetics of coat color. I recommend it to horse breeders, animal scientists, and geneticists who are interested in a fascinating and convoluted topic."
Doody's Reviews
, September 2009
"A fascinating book, filled with color photos of really beautiful horse and donkey colors, some I never knew existed, and many unusual and beautiful breeds. In addition, there are numerous charts of color breeding expectations and effects of colors on colors." - Veterinary Information Network
"The latest advances in color genetics for breeders of horses, donkeys and mules provides a blend of science and owner's guide and provides vets and equine breeders with many specifics including discussions of five new colors." - Midwest Book Review, July 2009


Details the genetic basis of five new colors.

Provides an explanation of genetic mechanisms that determine colors.

Explains each color through the interactions of genetic phenomena that build the colors step by step.

Examines patterns of white hair that may be superimposed on colors.

Includes donkey color as a separate section.