Equine Reproduction, 2nd Edition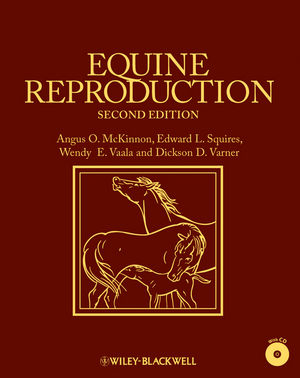 Equine Reproduction, 2nd Edition
ISBN: 978-0-470-96187-2 July 2011 Wiley-Blackwell 3288 Pages
Description
Now in a much-anticipated two-volume new edition, this gold-standard reference stands as the most comprehensive and authoritative text on equine reproduction. Serving theriogenologists, practitioners and breeders worldwide as a one-stop resource for the reproductive assessment and management of equine patients, Equine Reproduction, Second Edition provides detailed information on examination techniques, breeding procedures, pregnancy diagnosis and management, reproductive tract diseases and surgery, and foaling. A companion CD offers hundreds of images from the book in color.

For the Second Edition, the stallion, mare and foal sections have been thoroughly updated and revised to include the latest information on every subject. New topics include discussion of nutritional and behavioral factors in the broodmare and stallion, parentage testing, fetal sexing and the health and management of older foals, weanlings and yearlings. Additionally, this outstanding Second Edition features a new section on assisted reproductive techniques, including detailed information on artificial insemination, in-vitro fertilization, embryo transfer and technology.
Part I: The Mare.
1. Anatomy.
2. Physiology and Endocrinology.
3. The Estrous Cycle.
4. Behavior.
5. Nutrition.
6. Management of the Transitional Mare.
7. Techniques in Reproductive Examination.
8. Diagnostic Ultrasonography.
9. Pharmacological Manipulation of Reproduction.
10. Diseases of the Uterus.
11. Diseases of the Ovary.
12. Problems of the Cervix.
13. Problems of the Mammary Glands.
14. Pregnancy, Parturition and the Puerperal Period.
15. Problems of Pregnancy.
16. Female Urogenital Surgery.
17. Other Equids.
18. General Interest.
Part II: The Stallion.
19. Anatomy, Physiology and Endocrinology.
20. Management.
21. Sexual Behavior.
22. Semen Collection and Evaluation.
23. Reproductive Examination.
24. Surgical Procedures.
Part III: Assisted Reproductive Techniques.
25. Semen.
26. Oocytes.
27. Embryos.
29. Future Technologies.
Part IV: Foal, Weanling and Yearling.
30. Prepartum Assessment of the Foal.
31. Foal Adaptation to Parturition.
32. Postpartum Fetal Assessment.
33. Postpartum Fetal Assessment.
34. Problems of the Immediate Post-Partum Period.
35. System Disorders: Immune, Respiratory, Cardiovascular, Nervous, Urogenital, Gastrointestinal, Musculoskeletal, Integument, Ocular, Endocrinological.
36. Specific Diagnostic and Management Techniques.
37. Problems of Older Foals, Weanlings and Yearlings.
Appendix.
"This is an impressive looking, two volume, 3, 132 page text with 325 chapters, 150 colour plates and a CD with all the 713 figures from the book in colour." (Veterinary Times, 26 March 2012)
"For now, with no question, this book is the best chance we have of being up-to-date and knowledgeable about all aspects of equine reproduction, thereby able to serve well that most noble and unique of animals, the horse." (Vet Record, 1 December 2011)
"This set of books is a wonder, one of those that might keep you reading just for the experience and not saving it until you actually need it. I recommend it for all equine veterinarians who wish to be brought up-to-date on reproduction and equine health." (Veterinary Information Network, July 2011)
"A veritable bible of information, it includes everything from neonatology to assisted reproductive technologies.... This is an excellent book for anyone doing equine reproductive work. It updates the previous edition and provides more detail and more in-depth subjects than any other book on the subject I am aware of." (Doody's Reviews, June 2011)
"Like the first edition, this second is intended as a comprehensive reference focused on reproduction; but in acknowledgement of the fact that young equine vets need to be knowledgeable in other areas as well, the scope has been expanded and now includes coverage of topics pertaining to radiograph pre-sale and examination of the upper respiratory system with endoscopy." (BookNews, April 2011)
"At 3288 pages, 325 chapters, and with 250 authors, Equine Reproduction is nothing if not ambitious, and is a worthy successor to the original edition.... The two volumes come accompanied by a DVD of 713 (colour) illustrations, which is particularly nice for viewing ultrasonograms.... [contains] a wealth of new, updated and relevant information, which anyone with an interest in equine reproduction cannot fail to be impressed by and will find it hard to resist dipping into: a must-have purchase." (Veterinary Record, March 2011)
New edition of the classic text in equine reproduction
Written and edited by acknowledged experts from around the world
Comprehensive updates throughout and new section on assisted reproductive techniques
New discussion on nutrition and behavior of mares and stallions
Expanded foal section now covers not only neonates but also common health issues of older foals, weanlings and yearlings
Includes a companion CD with color images from the book