Equine Veterinary Nursing Manual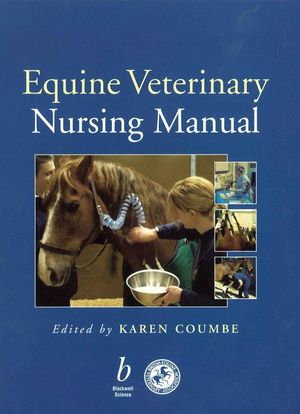 Equine Veterinary Nursing Manual
ISBN: 978-0-470-69054-3
Feb 2008, Wiley-Blackwell
464 pages
Description
Endorsed by the British Equine Veterinary Association, this book aims to cover the syllabus for the new RCVS equine veterinary nursing certificate. It covers subjects such as medical and surgical equine nursing, basic equine management and the theory underpinning these topics. It also includes chapters on nutrition, imaging and anatomy and physiology not previously well covered for the equine at a level appropriate for nurses. The approach is practical and the book is laid out in a user-friendly manner with copious illustrations.
List of Contributors.
Foreword.
Preface.
Abbreviations and Acronyms.
1 Basic Management (L. C. Marlborough & D. C. Knottenbelt).
2 Anatomy and Physiology (P. D. Clegg, C. L. Blake, R. C. Conwell, E. Hainisch, S. A. Newton, E. M. Post, M. J. Senior, S. L. Taylor & A. J. Wise).
3 Genetics (G. A. Munroe).
4 Reproduction (J. F. Pycock).
5 Nutrition (P. A. Harris).
6 Clinical Nutrition (P. A. Harris & J. M. Naylor).
7 Basic First Aid (N. E. Haizelden & H. J. Hangartner).
8 General Nursing (R. J. Baxter).
9 Safety Management in the Practice (A. Jones & E. R. J. Cauvin).
10 Basic Hospital Practice (J. Masters).
11 Medicines and their Management (R. J. Baxter & R. D. Jones).
12 Laboratory Diagnosis (L. L. Hillyer & M. H. Hillyer).
13 Fluid Therapy (J. C. Boswell & M. C. Schramme).
14 Medical Nursing (J. D. Slater).
15 Foal Nursing (S. J. Stoneham).
16 Lameness and Orthopaedic Nursing (E. Jones & T. J. Phillips).
17 Diagnostic Imaging (E. R. J. Cauvin).
18 General Surgical Nursing (D. Lloyd & B. M. Millar).
19 Theatre Practice (D. P. McHugh).
20 Anaesthesia (J. C. Murrell & C. B. Johnson).
Appendix.
Index.
* the first dedicated book on equine veterinary nursing
* written by equine veterinary surgeons and nurses
* authors include examiners for the equine veterinary nursing examination
* includes contributions from experienced veterinary nurses holding the equine veterinary nursing certificate
* case studies are used throughout to bring the theory to life
* A useful reference for everybody in any veterinary practice doing equine work