Equity Markets in Action: The Fundamentals of Liquidity, Market Structure & Trading + CD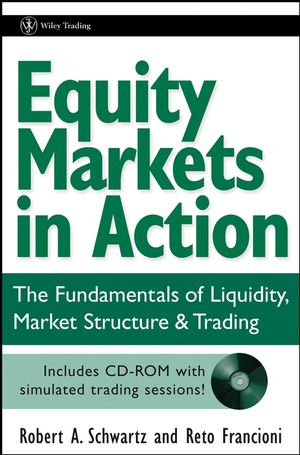 Equity Markets in Action: The Fundamentals of Liquidity, Market Structure & Trading + CD
ISBN: 978-0-471-46922-3
Aug 2004
480 pages
Description
An in-depth look at the nature of market making and exchanges
From theory to practicalities, this is a comprehensive, up-to-date handbook and reference on how markets work and the nuances of trading. It includes a CD with an interactive trading simulation.
Robert A. Schwartz, PhD (New York, NY), is Marvin M. Speiser Professor of Finance and University Distinguished Professor in the Zicklin School of Business, Baruch College, CUNY. Reto Francioni, PhD (Zurich, Switzerland), is President and Chairman of the Board of SWX, the Swiss Stock Exchange, and former co-CEO of Consors Discount Broker AG, Nuremberg.
Preface.
Chapter 1. Role of an Equity Market.
Chapter 2. From Information to Prices.
Chapter 3. Liquidity.
Chapter 4. What We Want From Our Markets.
Chapter 5. Institutional Order Flow.
Chapter 6. Order Driven Markets.
Chapter 7. Intermediated Markets.
Chapter 8. The Evolving Scene in the US.
Chapter 9. The Evolving Scene in Europe.
Chapter 10. Clearing and Settlement.
Chapter 11. Regulation.
Chapter 12. Simulated Trading.
Appendix A: Prices and Returns.
Appendix B: From Portfolio Decisions to Trading in a Frictionless Environment.
Appendix C: Dimensions of Informational Efficiency.
Appendix D: The Concept of Self-Regulation.
Selected Reading.
Biographies.
"Equity Markets in Action should be required reading for all aspiring traders and equity money managers. The computer simulation model should further enlighten the reader." -- Financial Analyst Journal, January/February 2005
An in-depth look at the nature of market making and exchanges.
Takes students inside the mechanics of the market.
Includes a companion CD that contains an interactive trading simulation package.
Provide students with hands-on experience in making tactical trading decisions in a variety of market structures.