Esau's Plant Anatomy: Meristems, Cells, and Tissues of the Plant Body: Their Structure, Function, and Development, 3rd Edition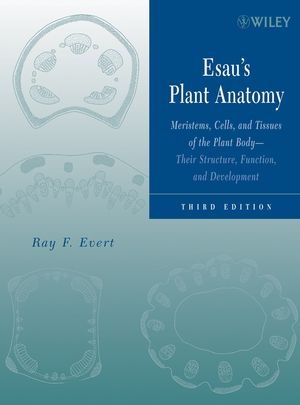 Esau's Plant Anatomy: Meristems, Cells, and Tissues of the Plant Body: Their Structure, Function, and Development, 3rd Edition
ISBN: 978-0-471-73843-5
Sep 2006
624 pages
Description
This revision of the now classic Plant Anatomy offers a completely updated review of the structure, function, and development of meristems, cells, and tissues of the plant body. The text follows a logical structure-based organization. Beginning with a general overview, chapters then cover the protoplast, cell wall, and meristems, through to phloem, periderm, and secretory structures.

"There are few more iconic texts in botany than Esau's Plant Anatomy… this 3rd edition is a very worthy successor to previous editions…" ANNALS OF BOTANY, June 2007
Preface.
Acknowledgments.
General References.
Chapter 1.  Structure and Development of the Plant Body—An Overview.
Chapter 2.  The Protoplast: Plasma Membrane, Nucleus, and Cytoplasmic Organelles.
Chapter 3. The Protoplast: Endomembrane System, Secretory Pathways, Cytoskeleton,
and Stored Compounds.
Chapter 4.  Cell Wall .
Chapter 5.  Meristems and Differentiation.
Chapter 6.  Apical Meristems.
Chapter 7.  Parenchyma and Collenchyma.
Chapter 8.  Sclerenchyma.
Chapter 9.  Epidermis.
Chapter 10.  Xylem: Cell Types and Developmental Aspects.
Chapter 11. Xylem: Secondary Xylem and Variations in Wood Structure.
Chapter 12.  Vascular Cambium.
Chapter 13.  Phloem: Cell Types and Developmental Aspects.
Chapter 14.  Phloem: Secondary Phloem and Variations in Its Structure.
Chapter 15. Periderm.
Chapter 16. External Secretory Structures.
Chapter 17. Internal Secretory Structures.
Addendum: Other Pertinent References Not Cited in the Text.
Glossary.
Author Index.
Subject Index.
"Katherine Esau's (1898-1997) 1953 first edition of
Plant Anatomy
became an instant classic and ushered in a new era in plant anatomy. This and the 1965 revision have long been the bible for many of us." (
Taxon
, May 2008)
"...modern and easily readable-with excellent illustrations." (Journal of the Botanical Research Institute of Texas, June/July 2007)
"Like its predecessors, 'Esau's Plant Anatomy' will serve as an important reference for students and botanists who need basic information on this subject. Summing up: Essential." (CHOICE, March 2007)
"...will probably become the standard in the field...a breadth of pictorial documentation often not achievable by a single author...a sound contribution to the plant anatomy reference and instructional textbooks available today." (The Quarterly Review of Biology, March 2007)
"...There are few more iconic texts in botany than Esau's Plant Anatomy… this 3rd edition is a very worthy successor to previous editions..." (Annals of Botany, June 2007)
"...provides an easily accessible and excellent source of basic information on plant anatomy which is nowadays more important than ever." (J. Phytopathology, 155, 574-576, 2007)
Provides a completely rewritten, expanded, up-to-date treatment based on the famous and pioneering work of Katherine Esau, the "grande dame" of American Botany

Effectively integrates latest research involving interdisciplinary concepts of plant growth and morphology, comparative plant anatomy, and the integration of ecological and systematic plant anatomy (ecophyletic anatomy)

Imparts a thorough knowledge of the structure and development of cells and tissues -- essential for a realistic interpretation of plant function

Profusely illustrated with more than 350 figures and numerous helpful tables

Covers latest molecular and cell biological findings

Distills difficult concepts in a clear and approachable manner

Extensive bibliography with each chapter; an addendum with additional references; book-end glossary