Escape Fire: Designs for the Future of Health Care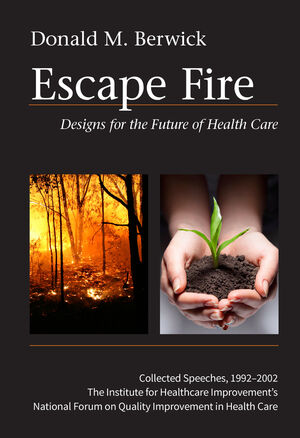 Escape Fire: Designs for the Future of Health Care
ISBN: 978-0-787-97217-2
Dec 2003, Jossey-Bass
352 pages
Description
Spanning a decade (1992-2002), these speeches echo the theme that our health care system needs fundamental change and a revolutionary new design. Throughout the book, Berwick identifies innovations and ideas from a number of surprising sources—a girls' soccer team, a sinking ship, and the safety standards at NASA. Escape Fire takes its title from the 1949 Mann Gulch tragedy in which thirteen young firefighters were trapped in a wildfire on a Montana hillside. The firefighter's leader, Wag Dodge, devised a creative solution for avoiding the encroaching fire. He burned a patch of grass and lay down in the middle of the scorched earth. His team refused to join him, and most perished in the fire. Dodge survived. Berwick applies the lessons learned from the catastrophe to our ailing health care system—we must not let ingrained processes obstruct life-saving innovation.

Not content to simply define the problems with our flawed system, Berwick outlines new designs and suggests practical tools for change: name the problem, build on success, take leaps of faith, look outside of the medical field, set aims, understand systems, make action lists, and—the most fundamental of all—never lose sight of the patient as the central figure.
Preface.
Acknowledgments.
Introduction (Frank Davidoff, MD).
1. Kevin Speaks.
2. Buckling Down to Change.
3. Quality Comes Home.
4. Run to Space.
5. Sauerkraut, Sobriety, and the Spread of Change.
6. Why the Vasa Sank.
7. Eagles and Weasels.
8. Escape Fire.
9. Dirty Words and Magic Spells.
10. Every Single One.
11. Plenty.
About the Author.
About the Commentary Authors.
Index.