Escape From Excel Hell: Fixing Problems in Excel 2003, 2002 and 2000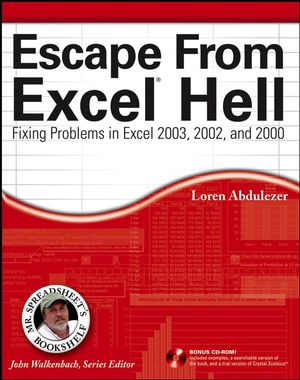 Escape From Excel Hell: Fixing Problems in Excel 2003, 2002 and 2000
ISBN: 978-0-470-04311-0
Jun 2006
408 pages
Product not available for purchase
Description
Written especially for advanced beginners and intermediate users, this book offers quick fixes for anyone bedeviled by faulty formulas, failed formatting, printer purgatory, and other perplexing Excel problems
Offers three types of fixes: Escape in Under 30 Seconds, Escape in Under Two Minutes, and More Elaborate Escapes-over 400 solutions in all
Topics covered include formula fixes, formatting fixes, data and layout fixes for Excel charts, PivotTable fixes, managing complexity in very large spreadsheets, fixing broken procedure functions, and more
Includes preventive measures and best practices that teach users how to avoid problems in the future
Note: CD-ROM/DVD and other supplementary materials are not included as part of eBook file.
Preface.
Acknowledgments.
Introduction.
Part I: Escape in Under 30 Seconds.
Chapter 1: Spreadsheet Basics.
Chapter 2: A Few Good Functions.
Chapter 3: Easy Formatting Fixes.
Part II: Escape in Under Two Minutes.
Chapter 4: Getting Excel to Behave.
Chapter 5: Getting Correct Results with Excel Formulas.
Chapter 6: Charts and Data Visualization.
Part III: More Elaborate Escapes.
Chapter 7: Common Issues with Excel Components.
Chapter 8: Involved Data Analysis.
Chapter 9: Very Large Spreadsheets.
Chapter 10: Other Challenging Topics.
Appendix A: Miscellaneous Solved Problems.
Appendix B: Installing the Escape Excel Hell Utility Pak.
Appendix C: Escape From Excel Hell Techniques and Hip Pocket Tips.
Appendix D: About the CD.
Index.
End-User License Agreement.