Escape the Mid-Career Doldrums: What to do Next When You're Bored, Burned Out, Retired or Fired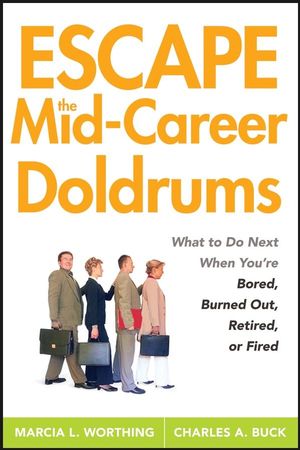 Escape the Mid-Career Doldrums: What to do Next When You're Bored, Burned Out, Retired or Fired
ISBN: 978-1-118-04496-4
Jan 2011
224 pages
Description
Whether you're bored, burned out, retired, or fired, Escape the Mid-Career Doldrums offers solutions, ideas, and practical tools for shaking up your professional life for the better. Based on real case studies, this smart and practical career guide will help you discover the causes of your professional problems and give you the inspiration and confidence to take action and seize new opportunities. This is the perfect prescription for a new and exciting professional life.
Acknowledgements.
Introduction.
Chapter 1. The Changing World of the Mid-Career Professional.
Chapter 2. Your Career is in a Turnaround. A Great Environment for Fresh Starts and New Directions.
Chapter 3. What You Do Next Doesn't Depend On What You Did Before: Moving Past the Career Myths.
Chapter 4. Assess the Underlying Cause of Your Boredom, Burnout, Retirement, or Firing.
Chapter 5. Use the Cause to Find the Cure.
Chapter 6. Open Yourself to the New World of Work and Emerging Opportunities.
Chapter 7. Enter Your Discomfort Zone. Transitioning to a New Way of Thinking.
Chapter 8. Monitor Your Progress. Signs that You're Going in a Great New Direction.
Chapter 9. What Next. A New 30 Year Plan.
Appendix 1. Financial Issues to Consider When Changing Jobs or Careers.
Appendix 2. 13 Step Networking Process.
Appendix 3. Business Plan Outline.
Appendix 4.