Essaying the Past: How to Read, Write, and Think about History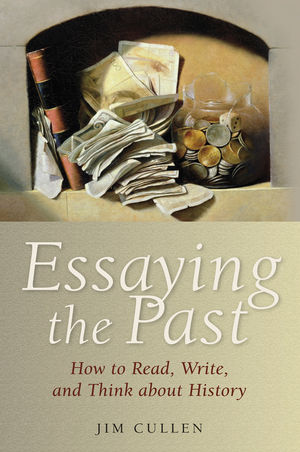 Essaying the Past: How to Read, Write, and Think about History
ISBN: 978-1-444-35677-9
Sep 2011, Wiley-Blackwell
208 pages
Product not available for purchase
Description
Part research manual, part study guide, and part introduction to the study of history, Essaying the Past is a complete resource for high school, college, and graduate level students. Jim Cullen guides the reader through the nuts and bolts of producing good historical prose, discussing key strategies such as framing questions, developing a strong introduction and topic sentences, choosing good evidence, and the important role of revision.

Beginning with a survey of the field, this book offers useful insight into how to read and understand a wide variety of historical sources, as well as providing an introduction to historiography, helpful tips for conducting research, and a discussion of what it means to think and read analytically. Cullen also offers a set of appendices that cover the major issues facing students of history today, among them the dangers of plagiarism, the role of the Internet, and the need for correctly annotated and formatted footnotes and bibliographies.
Acknowledgments ix
Introduction to the Student: Why Would You Look at a Book Like This? 1
Part I Reading to Get Writing 5
1. It's About Time 7
2. What's the Story with History? 14
3. The Sources of History 20
4. Good Answers Begin with Good Questions 29
5. Search Engines, Research Ingenuity 36
6. How to Read a Book without Ever Getting to Chapter One 46
7. Analysis: The Intersection of Reading and Writing 60
Part II Writing to Get Read 69
8. Making a Case: An Argument in Three Parts 71
9. Defining Introductions 79
10. Strong Bodies (I): The Work of Topic Sentences 89
11. Strong Bodies (II): Exposition and Evidence 98
12. Strong Bodies (III): Counterargument and Counterevidence 107
13. Surprising Conclusions 115
14. Writing is Rewriting: The Art of Revision 121
15. Putting It All Together: The Research Essay (A Case Study) 129
Conclusion: The Love of History 148
Appendices.
A Writing an Essay: Ten Easy Steps in Review 152
B Lending a Hand: Bibliographies and Footnotes 154
C Credit Scams: The Dangers of Plagiarism 163
D Web of Lies? Weighing the Internet 168
E DBQs and Reviews 171
F A Glossary of Key Terms 176
G More Reading About Writing 181
Index 183
"A tour de force — an ideal text for virtually any history course that is the least bit writing-intensive. Written with verve, insight, and a keen sense of humor, it will delight students and professors alike."
Charles L. Ponce de Leon, California State University at Long Beach
"The ultimate insider's guide to historical writing, the new gold standard in the field."
Kerry Walk, Director of the Princeton Writing Program, Princeton University

"A captivating, stimulating, meaningful, and insightful tool for history students (who are not always prepared to succeed in academia) and their professors (who are demanding because they want their students to succeed)."
James Ross-Nazzal, Houston Community College

"A lively and entertaining book on how to think and write about history. Cullen's book provides an indispensable guide for students and teachers alike."
Gregory L. Schneider, Emporia State University

"Jim Cullen is the teacher we all wish we'd had. His examples range from Thucydides to Avril Lavigne, and he even offers advice on how to read blurbs."
Steven Biel, Executive Director of the Humanities Center and Senior Lecturer on History and Literature at Harvard University, author of American Gothic: A Life of America's Most Famous Painting

"Underscores the essential elements in essay writing and crafting the history research paper. Cullen's book offers explanations and examples that are useful in critical analysis for students learning how to write like historians."
James Barrera, South Texas College

"There's a level of sophistication in Essaying the Past that is disguised by its utterly clear and engaging style. Jim Cullen tells students just what they need to know to write about the past."
Mari Jo Buhle, Brown University

"Clear, engaging, and eminently practical, Cullen's guide to writing (and thinking) history moves to the head of the class as the best such book we have. It is truly a gift to all those who teach or learn history."
E. Anthony Rotundo, Phillips Academy Andover