Essential Biochemistry, 3rd Edition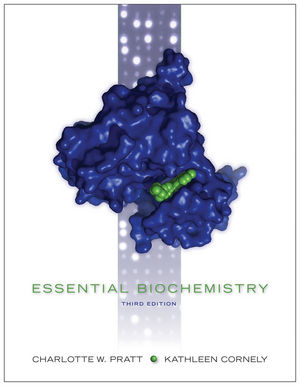 Essential Biochemistry, 3rd Edition
ISBN: 978-1-118-54962-9
Jan 2013
744 pages
Product not available for purchase
Description
Essential Biochemistry takes a selective approach to coverage, comprised of biology, premed, and allied health and presents a broad, but not overwhelming base of biochemical coverage that focuses on the chemistry behind the biology. Furthermore it relates the chemical concepts that scaffold the "biology" of biochemistry, providing practical knowledge as well as many problem-solving opportunities to hone skills. Essential Biochemistry is a "guided" tour of biochemistry that is selective in coverage and places information in its broader biological context for understanding. Chapters are intentionally short to alleviate information overload. Chapter opening sections, entitled This Chapter in Context, helps orient the reader to the main topics of the chapter and show how topics relate to previously learned material. Key Concepts at the beginning of each section help identify the most important takeaways in the section and provide an organizational outline for learning. Concept Review questions at the end of each section follows up on those key concepts by testing mastery.
Questions to promote student engagement and additional problem solving opportunities
Sample Calculations now include Practice Problems.
Many figure captions include a question to prompt students to inspect the diagram more closely
Over 387 new End of Chapter Problems
New material to highlight connections to nutrition, pharmacology, biotechnology
Biochemistry Note boxes cover a range of topics .
Clinical Connection boxes, explore the biochemical causes of diseases, their symptoms, and their treatment.
Inclusion of up-to-date topics, including genomic analyses (Ch 3), quantitative PCR (Ch 3), mass spectrometry for protein analysis (Ch 4), receptor protein structure (Ch 10), ATP synthase mechanism (Ch 15), role of probiotic organisms (Ch 19), treatments for diabetes (Ch 19), the histone code (Ch 2), eukaryotic ribosome structure (Ch 22).
Art program improvements
Diagrams maximize clarity and provide more accurate three-dimensional depictions of proteins and membranes.
Re-rendered molecular graphics improve clarity and show newly discovered structural features.
Depth of coverage over breadth of coverage
Some traditional topics with few applications have been eliminated. 
Within each chapter, Sample Calculations show how to use key equations.
Each chapter ends with a large selection of problems, including many multi-step case-type problems that require students to apply information rather than simply recall memorized details. The electronic media (website) are fully integrated with and complement the text.  The interactive exercises/animations and the questions based on them do not merely echo material from the text but instead focus on themes such as three-dimensional shape and molecular motions - processes that can be best illustrated via the computer.
Reminders to explore the web-based animations, guided explorations, and interactive exercises appear at appropriate places within the chapters.  The text includes additional cross-references to specific topics in the on line exercises.