Essential Biochemistry, 4th Edition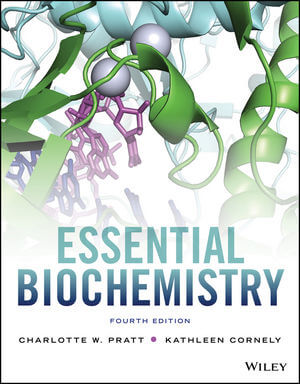 Essential Biochemistry, 4th Edition
ISBN: 978-1-119-31933-7
Feb 2017
744 pages
Description
Essential Biochemistry, 4th Edition is comprised of biology, pre-med and allied health topics and presents a broad, but not overwhelming, base of biochemical coverage that focuses on the chemistry behind biology. Futhermore, it relates the chemical concepts that scaffold the biology of biochemistry, providing practical knowledge as well as many problem-solving opportunities to hone skills. Key Concepts and Concept Review features help students to identify and review important takeaways in each section.
PART 1 Foundations
Chapter 1 The Chemical Basis of Life
Chapter 2 Aqueous Chemistry


PART 2 MOLECULAR STRUCTURE AND FUNCTION
Chapter 3 From Genes to Proteins
Chapter 4 Protein Structure
Chapter 5 Protein Function
Chapter 6 How Enzymes Work
Chapter 7 Enzyme Kinetics and Inhibition
Chapter 8 Lipids and Membranes
Chapter 9 Membrane Transport
Chapter 10 Signaling
Chapter 11 Carbohydrates
PART 3 METABOLISM
Chapter 12 Metabolism and Bioenergetics
Chapter 13 Glucose Metabolism
Chapter 14 The Citric Acid Cycle
Chapter 15 Oxidative Phosphorylation
Chapter 16 Photosynthesis
Chapter 17 Lipid Metabolism
Chapter 18 Nitrogen Metabolism
Chapter 19 Regulation of Mammalian Fuel Metabolism

PART 4 GENETIC INFORMATION
Chapter 20 DNA Replication and Repair
Chapter 21 Transcription and RNA
Chapter 22 Protein Synthesis
Guided Tours: created by Charlotte Pratt, these multipart animations present big picture concepts conveyed through animations, tutorials and practice.
ORION, adaptive learning, primer: students enrolled in biochemistry courses often don't have the basic chemistry and biology knowledge to succeed in the course. ORION Foundations provides adaptive self study content for foundational Chapters 1, The Chemical Basis of Life and 2, Aqueous Chemistry.
A selection of end of chapter questions can be assigned and graded
Assignable Brief Bioinformatics exercises Written by Rakesh Mogul, Cal Poly Pomona, these exercises introduce students to the rich variety of biochemical information and software tools available over the Internet and show them how to mine this information, thereby illuminating the connections between theory and applied biochemistry and stimulating student interest and proficiency in the subject.
Sample calculations: Students come to biochemistry with different levels of math skills. These embedded videos, created by Charlotte Pratt, walk students through the Sample Calculations provided for key equations throughout the text.
Exercise Questions: Over 750 questions with meaningful immediate feedback. These questions were written by Rachel Milner and Adrienne Wright University of Alberta, based on curating ten years of student misconceptions in the course.