Essential Developmental Biology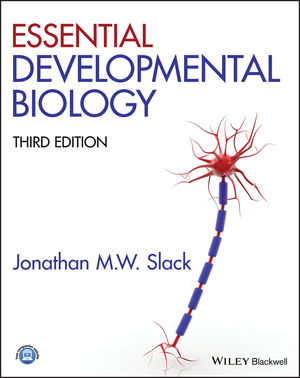 Essential Developmental Biology
ISBN: 978-1-118-54224-8 September 2012 Wiley-Blackwell 496 Pages
Description
Developmental biology is at the core of biological science, integrating molecular biology, genetics and anatomy. The past 15 years has seen revolutionary advances not only in our understanding of the processes by which an egg develops into an adult, but also in the application of this knowledge to the areas of reproductive technology, drug development and organ replacement.
Essential Developmental Biology is a concise and well-illustrated treatment of this subject for undergraduates. Assuming no prior knowledge of anatomy and only the basics of cell biology and genetics, the book starts off by introducing the principles and approaches of developmental biology. The second section covers the characteristic development of each of the principal model species used for research and the final chapters are devoted to organ development, predominantly in vertebrates. With an emphasis throughout on the evidence underpinning the main conclusions, this book is suitable as the key text for both introductory and more advanced courses in developmental biology.



A new approach to a widely taught subject.

Priced for student purchase at approximately half the price of the main competition.

Over 200 illustrations, with artwork available free on the Web.

Well-known author/media celebrity.
Table of contents
Preface, ix
About the companion website, xii
Section N: Groundwork, 1
N The excitement of developmental biology, 3
Where the subject came from, 3
Impact of developmental biology, 4
Future impact, 4
Further reading, 5
O How development works, 7
Ultrashort summary, 7
Gametogenesis, 10
Early development, 12
Morphogenetic processes, 19
Growth and death, 23
Further reading, 25
P Approaches to development: developmental genetics, 27
Developmental mutants, 27
Sex chromosomes, 29
Maternal and zygotic, 29
Genetic pathways, 29
Genetic mosaics, 32
Screening for mutants, 33
Cloning of genes, 34
Gain- and loss-of-function experiments, 34
Gene duplication, 38
Limitations of developmental genetics, 39
Further reading, 40
Q Approaches to development: experimental embryology, 42
Normal development, 42
Developmental commitment, 45
Criteria for proof, 51
Further reading, 52
R Approaches to development: cell and molecular biology techniques, 54
Microscopy, 54
Study of gene expression by molecular biology methods, 58
Study of gene expression by in situ methods, 61
Microinjection, 65
Cell-labeling methods, 66
Further reading, 68
Section O: Major model organisms, 71
S Model organisms, 73
The big six, 73
Access and micromanipulation, 75
Genetics and genome maps, 75
Relevance and tempo, 76
Other organisms, 76
Further reading, 78
T Xenopus, 80
Oogenesis, maturation, and fertilization, 80
Normal development, 82
Experimental methods, 87
Processes of regional specification, 92
Inductive interactions, 95
Further reading, 104
U The zebrafish, 106
Normal development, 106
Genetics, 110
Embryological and molecular techniques, 114
Regional specification, 115
Other uses for the zebrafish, 118
Further reading, 120
V The chick, 121
Normal development, 122
Regional specifi cation of the early embryo, 127
Description of organogenesis in the chick, 133
Further reading, 140
NM The mouse, 141
Mammalian fertilization, 141
Normal development, 145
Regional specifi cation, 153
Human early development, 158
Mouse developmental genetics, 159
Other topics in mouse development, 164
Further reading, 169
NN Drosophila, 171
Insects, 171
Normal development, 173
Drosophila developmental genetics, 178
The developmental program, 181
Further reading, 197
NO Caenorhabditis elegans, 198
Adult anatomy, 198
Embryonic development, 200
Analysis of postembryonic development, 208
Further reading, 215
Section 3: Organogenesis, 217
NP Techniques for studying organogenesis and postnatal development, 219
Genetics, 219
Clonal analysis, 223
Tissue and organ culture, 226
Cell separation methods, 228
Further reading, 230
NQ Development of the nervous system, 231
Overall structure and cell types, 231
Anteroposterior patterning of the neural plate, 234
Dorsoventral patterning of the neural tube, 238
Neurogenesis and gliogenesis, 240
The neural crest, 246
Development of neuronal connectivity, 250
Further reading, 257
NR Development of mesodermal organs, 259
Somitogenesis and myogenesis, 259
The kidney, 266
Germ cell and gonadal development, 269
Limb development, 274
Blood and blood vessels, 284
The heart, 287
Further reading, 293
NS Development of endodermal organs, 296
Normal development, 296
Experimental analysis of endoderm development, 301
The pancreas, 307
Further reading, 312
NT Drosophila imaginal discs, 314
Metamorphosis, 314
Disc development, 318
Further reading, 328
Section Q: Growth, regeneration, evolution, 331
NU Tissue organization and stem cells, 333
Types of tissue, 333
Tissue renewal, 336
Stem cells, 339
Further reading, 360
NV Growth, aging and cancer, 362
Growth: control of size and proportion, 362
Aging, 371
Cancer, 374
Further reading, 382
OM Regeneration of missing parts, 384
Distribution of regenerative capacity, 384
Planarian regeneration, 385
Insect limb regeneration, 388
Vertebrate limb regeneration, 390
General properties of regeneration, 399
Further reading, 400
ON Applications of pluripotent stem cells, 401
Cell transplantation therapy, 401
Embryonic stem cells, 403
Personalized pluripotent stem cells, 406
Proposed cell transplantation therapies using pluripotent stem cells, 411
Further reading, 417
OO Evolution and development, 419
Macroevolution, 420
The primordial animal, 424
What really happened in evolution?, 429
Further reading, 438
Appendix: Key molecular components, 440
Genes, 440
Transcription factor families, 442
Signaling systems, 443
Inducing factor families, 445
Cytoskeleton, 449
Cell adhesion molecules, 451
Extracellular matrix components, 452
Further Reading, 452
Glossary, 454
Index, 467
What's New


A new approach to a widely taught subject.

Priced for student purchase at approximately half the price of the main competition.

Over 200 illustrations, with artwork available free on the Web.

Well-known author/media celebrity.