Essential Endodontology: Prevention and Treatment of Apical Periodontitis, 2nd Edition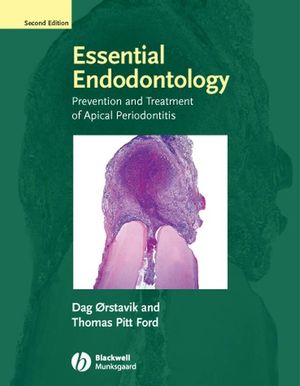 Essential Endodontology: Prevention and Treatment of Apical Periodontitis, 2nd Edition
ISBN: 978-1-405-14976-1
Dec 2007, Wiley-Blackwell
488 pages
Description
This second edition of Essential Endodontology capitalizes on the book's position as the major scientific treatise in the field. It addresses the scientific basis of endodontology rather than majoring on didactic methods of treatment. The second edition adopts a strengthened approach to the systematic analysis of the available clinical and laboratory evidence. Apical periodontitis is promoted as a disease entity, with the etiology, prevention and treatment being discussed.
Chapter 1. Apical Periodontitis: Microbial Infection and Host Responses: Dag Ørstavik & Thomas R Pitt Ford.
Chapter 2. Pulp-Dentin and Periodontal Anatomy and Physiology: Ivar A. Mjör & Karin Heyeraas.
Chapter 3. Pathological aspects of pulpal and periapical inflammations: N. Kawashima and H. Suda.
Chapter 4. Pathobiology of Apical Periodontitis: P.N.R. Nair.
Chapter 5. Microbiology of Apical Periodontitis: José F. Siqueira Jr.
Chapter 6. Radiology of Apical Periodontitis: Dag Ørstavik and Tore A. Larheim.
Chapter 7. Clinical Manifestations and Diagnosis: Asgeir Sigurdsson.
Chapter 8. Epidemiology of Apical Periodontitis: Harald M Eriksen.
Chapter 9. Prevention and management of apical periodontitis in primary teeth: Heather Pitt Ford.
Chapter 10. Treatment of the exposed pulpodentin complex: B. Gunnar Hasselgren.
Chapter 11. Endodontic treatment of teeth without apical periodontitis: Larz S.W. Spångberg.
Chapter 12. Endodontic Treatment of Apical Periodontitis: Martin Trope and Gilberto Debelian.
Chapter 13. Surgical treatment of apical periodontitis: T R Pitt Ford.
Chapter 14. Expected Outcomes in the Prevention and Treatment of Apical Periodontitis: Dr. Shimon Friedman
"The second edition ... provides an excellent, timely update ... .Consolidates pertinent information ... and relevant new research ... with an outstanding result."
Journal of Endodontics<!--end-->
"A well written and well illustrated book." British Dental Journal


Now in color throughout

Major update

New chapters on the origin of pulpo-periodontal pain and endodontic medicaments and materials

Author team continues to reflect global excellence, with new contributors added

Develops the scientific niche in quality endodontics