Essential Evidence: Medicine that Matters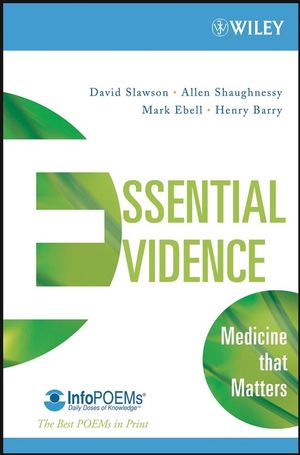 Essential Evidence: Medicine that Matters
ISBN: 978-0-470-48481-4 October 2009 544 Pages
Description
This manual helps clinicians easily to find the best available evidence to facilitate sound medical decisions. It is the first published compilation of highly relevant InfoPOEMs that the editors believe has the potential to change a clinician's practice. The editors have selected over 300 of the most influential, compelling POEMs, and organized them by topic for easy reference.

Each POEM contains:
Clinical Question: Poses a question that the study seeks to answer.
Bottom line: Summarizes the findings of the research and places these findings into the context with the known information on the topic. The bottom line also is designed to help readers understand how to apply the results. 
LOE: Each review is given a Level of Evidence indicator. This allows the reader to discern an overall sense of how well the new information is supported.
Reference: Displays the citation of the article being reviewed.
Study Design: Identifies the procedures of the study (i.e., Meta-Analysis, randomized controlled trial).
Setting: Identifies the environment in which the study took place (i.e., outpatient, inpatient).
Synopsis: Provides a brief overview of the study design and results, but is not an abstract. The editors have pulled out only the most important information – the materials that readers need to judge the validity of the research and to understand the results.
The manual opens with two complementary, original chapters:
1) Introduction to Information Mastery which covers the skills physicians need to practice the best medicine.
2) An Introduction to Evidence Based Medicine that reviews the key concepts and principles behind this practice model.
Preface.
Taking an Evidence-Based Approach to the Care of Patients.
How to Become an Information Master: Feeling Good about NOT Knowing Everything.
InfoPOEMs (Patient-Oriented Evidence that Matters).
Cancer.
Breast cancer.
Gynecologic cancers.
Melanoma.
Prevention and screening.
Prostate cancer.
Cardiology.
Acute myocardial infarction and acute coronary syndromes.
Anticoagulation management.
Atrial fi brillation.
Coronary artery disease.
COX-2 inhibitors and heart disease.
Heart failure.
Hyperlipidemia.
Hypertension.
Peripheral vascular disease and aneurysm.
Pulmonary hypertension.
Thrombophilias.
Venous thromboembolism.
Venous thromboembolism diagnosis and prognosis.
Care of Infants and Children.
ADHD.
Anemia.
Asthma.
Diarrhea.
Prevention.
Otitis media.
Other pediatric problems.
Respiratory infections and fever.
Sore throat.
Complementary and Alternative Medicine.
Diarrhea.
Diet and exercise.
Mental health problems.
Musculoskeletal problems.
Prevention of cancer.
Upper respiratory problems.
Women's health.
Endocrinology.
Diabetes.
Obesity.
Eye, Ear, Nose and Throat.
Allergicrhinitis.
Epistaxis.
Eye problems.
Otitis media.
Sinusitis.
Sore throat.
URI.
Gastrointestinal Problems.
Diarrhea and gastroenteritis.
Dyspepsia and gastrointestinal bleeding.
Gastroesophageal reflux disease.
Hepatobiliary disorders.
Gynecology.
Cervical and endometrial cancer.
Infertility and contraception.
Menopause.
Vaginitis.
Hematology.
Anemia.
Thrombophilias.
Infectious Disease.
Prevention.
Prescribing practices.
Respiratory infections.
Kidney Diseases.
Diabetic nephropathy.
Gout.
Renal failure.
Urinary tract infection and dysuria.
Musculoskeletal Problems.
Back and neck pain.
Degenerative joint disease.
Osteoporosis and fractures.
Other musculoskeletal problems.
Neurology.
Headache.
Herpes zoster.
Insomnia.
Syncope and vertigo.
Stroke.
Pregnancy Care.
Labor management.
Prenatal care.
Preterm labor.
Psychology and Substance Abuse.
ADHD.
Antipsychotics and schizophrenia.
Anxiety and stress.
Dementia.
Depression.
Tobacco abuse.
Respiratory Problems.
Asthma.
COPD.
Lower respiratory infections.
Pneumonia.
Skin Diseases.
Acne vulgaris.
Dermatitis.
Herpes zoster.
Melanoma.
Other skin problems.
Surgery + Procedures.
Cancer.
Implantable defi brillators.
Minor procedures.
Orthopeidcs and sports medicine.
Otitis media.
Preoperative care.
Vascular surgery and procedures.
Systems of Care.
Care of children.
Critical care.
Prescribing practices.
Process of care.
Self-monitoring.
Urology.
Dysuria and urinary tract infection.
Incontinence.
Nephrolithiasis.
Prostate cancer.
Glossary.
Index.